Posted on
Mon, Mar 19, 2012 : 5:11 a.m.
Angry and funny, Henry Rollins bringing his point of view to the Michigan Theater
By Kevin Ransom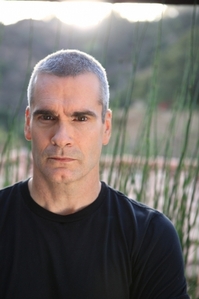 Henry Rollins
first earned his rep in the early 1980s as the ferocious, stomping, angst-ridden, screaming-wildman lead singer for Black Flag, the seminal hardcore band.
But in the 25-plus years since that band split up—and even though he continued purging his soul onstage afterward, in similarly primal fashion, as the leader of The Rollins Band —he's pursued so many other endeavors that he's now better known as a talker and writer (and, more recently, photographer) than as a singer / rocker.
Starting in the early 2000s, Rollins began spending more and more time doing spoken-word shows than rock shows, which have now become his main gig. And he also does plenty of talking on his wildly eclectic radio show on KCRW out of Los Angeles. He's also written several books of essays, poetry and chronicles of his travels (plus an autobiography), and has appeared in many films and TV shows. Rollins also served as MC for last year's Stooges homecoming concert at the Michigan Theater.
Rollins returns to the Michigan with his latest spoken-word jaunt, which he's dubbed "The Long March" tour, on Thursday. His spoken-word shows are had to classify. He's a pointed, sometimes scathing social critic, serving up withering criticisms of politicians, Wall Street, the oil companies, the U.S. military, U.S. foreign policy, etc.
But it's not all heavy topics. He's frequently funny, sharing darkly amusing anecdotes about his travels and delivering sardonic observations, and he likes to crack wise about some of his fellow artists, like the time he spouted, "Morrisey could NEVER have happened in America! He ONLY could only have happened in England!"—and then went on to riff about the differences between the American mentality and the English mentality, sharply lampooning both in the process.
Rollins is also an inveterate traveler even when he's not on tour. He frequently embarks on sojourns to remote locales, often to ones that have been ravaged by war, poverty or natural disasters—and then writes about them in his books and talks about them onstage. For his "Long March" tour, he'll be sharing anecdotes about and inspired by his recent visits to North Korea, Mongolia, Bhutan, Vietnam, India, Tibet, Sudan, Uganda, Haiti and Cuba.
PREVIEW
Henry Rollins: The Long March
Who: Hard-core rocker turned writer and popular spoken-word artist.
What: Rollins' spoken-word shows veer from scathing social criticism to sardonic humor to stories about his seemingly endless globe-trotting.
Where: Michigan Theater, 603 East Liberty St.
When: Thursday, 8 p.m.
How much: $25. Tickets available at all Ticketmaster outlets, including the Michigan Union Ticket Office and at Ticketmaster.com. Charge by phone at 800-745-3000.
His latest project, "Occupants," is a book of photographs he took during his travels. Much of "Occupants" juxtaposes the images of war, and the remnants of war—and the wrenching realities of poverty and hunger—with images and tales of the hope, courage, bravery, and benevolence that people in these locales are still able to maintain, despite living in such harrowing conditions. The photos are accompanied by Rollins' essays about what he sees in them, and about what thoughts and emotions they conjure in him.
""I'm quite the amateur," Rollins told MTVhive.com, speaking of his pedigree as a photographer. "But for someone who travels as far and wide as I do, I think taking a camera is a good idea. I don't take myself seriously, but I take the camera real seriously.
"The book goes from 2003 to 2010," he explained. "It starts in Central Asia and it ends in South Africa. I would look at the photo—months, sometimes years later—and write about how it made me feel. A lot of it to me is what globalization looks like: McDonalds in Thailand, the way it stands out like an eyesore… it's insulting to me, and I see a lot of that in the world." In the book, Rollins also explores the notion of "the other side"—that is, the deep social, political, and cultural divisions—both globally and within America—and how, frequently, these opposing sides are unable to even consider each other's perspective.
"I do that a lot," Rollins told the Phoenix New Times. "It's an interesting exercise, and you get a lot of truth out of it. I like debating the other side's point of view." For example, he said, "I like debating the death penalty, but be on the pro-death penalty side. I think that the death penalty is this awful, brutal, obscene thing, but I can easily understand the logic of some people (who say), 'Look, the guy….hacked a woman to pieces. So let's take him out in the backyard and put a bullet through his head….'"
Given his passion for political and social issues, and his desire to interact with those on the front lines, it's fitting that Rollins visited various Occupy sites last year, including ones in New York, Chicago, Washington, D.C. and Seattle. He predicts that, as winter turns to spring, those Occupy demonstrations and camps will ramp up again.
This spring and summer, "there's gonna be some people who are gonna push back on the cops, and it's gonna turn into clouds of tear gas," Rollins opined to MTV. "It's been relatively mellow—but I don't see that lasting when the temperatures rise. When it's 95 degrees in New York, I think something might boil over."
Kevin Ransom is a freelance writer and regular contributor to AnnArbor.com's entertainment section. He can be reached at KevinRansom10@aol.com.