Posted on
Tue, Nov 29, 2011 : 5:58 a.m.
'Here Comes Trouble': Michael Moore to make book tour stop in Ann Arbor
By Jenn McKee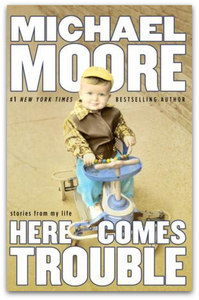 After more than 20 years in the spotlight, filmmaker/author/activist
Michael Moore
("Sicko," "Fahrenheit 911," "Bowling for Columbine") instantly sparks heated debates these days, even when only mentioned briefly.
Witness AnnArbor.com's recent short post announcing the Flint native's only Southeast Michigan book tour stop, on Thursday, Dec. 1 at 8 p.m. at the Michigan Theater, to promote his new memoir, "Here Comes Trouble: Stories from My Life" - the "story" has 22 comments and counting.
When USA Today asked Moore 5 questions, the first was, apropos of his newest book's title, "Have you always caused trouble?"
"That's the irony of it; I don't think I've ever really caused trouble," Moore responded. "I was a good little boy and a good student. I've never been arrested. I've just done what I was told to do, which is to follow my conscience."
"Trouble" tells 2 dozen short stories from Moore's early life, up to the time that he made his breakthrough first film, "Roger and Me."
"They tell how, from a young age, the 'personal' in my life slowly boiled up and exploded, quite unexpectedly, into the political," Moore explained in a MichaelMoore.com blog post. " … From a chance encounter at the age of 11 with Bobby Kennedy to a tense moment in Virginia outside a rest room door marked 'Colored'; from the gay kid in the neighborhood who was beaten to a pulp to the night some in my church cheered the news of the death of Martin Luther King; from a ruckus I raised at 17 that helped end a form of racial discrimination nationwide to becoming one of the first 18-year olds in the U.S. elected to public office; from planning my escape to Canada during the Vietnam War to having my newspaper raided by the local police; from confronting Reagan in a German cemetery as he laid a wreath on the graves of Nazi soldiers to surviving a terrorist massacre by showing up 20 minutes late—this was my life before I even thought of putting the first roll of film inside a camera."
Moore also explained, "One of my missions on the (book) tour will be to help local libraries across the country that are struggling to survive. For my part I will be giving half of all my royalties on every book that is sold at the events on my tour to these local libraries."
You can hear Moore talking briefly about several incidents described in "Trouble" in this clip from a recent "Democracy Now" interview.
And those curious to sample Moore's prose from "Trouble" can read an online excerpt about his experience with an eighth grade teacher whose husband goes missing in Vietnam.
The New York Times' review of "Trouble" noted that "like all of (Moore's) books this one is shaggy and overfilled. … Mr. Moore's coming of age as a working-class malcontent is, however, something to behold. It's the story of a big lunk who learns to yoke his big mouth to a sense of purpose. It persuades you to take Mr. Moore seriously, and it belongs on a shelf with memoirs by, and books about, nonconformists like Mother Jones, Abbie Hoffman, Phil Ochs, Rachel Carson, Harvey Pekar and even Thomas Paine. Mr. Moore — disheveled, cranky, attention seeking, too eager to pick a fight — is easy to satirize. But he could nearly get away with branding his camera with the words once scrawled on Woody Guthrie's guitar: This machine kills fascists."
PREVIEW
An Evening with Michael Moore
What: Michigan's controversial filmmaker/activist will read from his new memoir, answer questions, and sign copies of his book.
Where: The Michigan Theater, 603 E. Liberty St.
When: Thursday, December 1 at 8 p.m.
How much: Tickets are $10 ($5 for students), or $30 for an event ticket and hardcover book copy package ($25 for students). To purchase advance tickets, visit Ticketweb.com.
A
review from Britain's The Guardian
, meanwhile, argues, "The most convincing stories (in 'Trouble') are the most straightforward—tales of embarrassing first dates and teenage yearning in which Moore relates amusing anecdotes with a keen eye for youthful missteps. The writing here is certainly a marked improvement on that found in his previous sequence of bestsellers, which were really a series of comic skits with political factoids thrown in.
"However, he can't help freighting his progression from bright but wayward student to international hit director with the burdensome load of his considerable ego. Although he tries to leaven the effect with humour and fake humility, you don't have to read too closely to see that he's invariably the guy telling truth to power, looking out for the little people, constantly alive to prejudice and injustice, and never, of course, entertaining a thought of personal ambition."
In anticipation of a book tour stop, Moore's hometown newspaper, the Flint Journal, spoke with the filmmaker, wherein he addresses those who claim he's all but abandoned Flint since becoming a political icon:
"I think everyone hopes that if you're raising your kids in Flint, as we raised our daughter here for her first 10 years, that your kids will be able to go off and be able to do whatever," Moore said. "That says more about the area, that we are able to produce people that go on to do great things."
Finally, this past September, Moore appeared at a Barnes and Noble in New York City (wearing a maize and blue Michigan T-shirt) and read an excerpt from "Trouble," which describes how, as a teenager, Moore entered a speech contest sponsored by the Elks Club—an organization that, at the time, had a "Caucasians only" policy.
Perhaps you won't be surprised to learn that Moore had some opinions about this—opinions which he didn't hesitate to voice.
Jenn McKee is the entertainment digital journalist for AnnArbor.com. Reach her at jennmckee@annarbor.com or 734-623-2546, and follow her on Twitter @jennmckee.