Posted on
Mon, Sep 5, 2011 : 5:06 a.m.
Howard Fishman bringing his unique style, multilayered songs to Kerrytown Concert House
By Will Stewart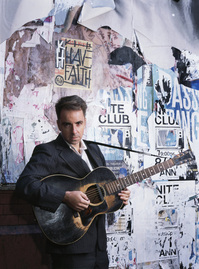 Howard Fishman
might just be the best—and most prolific—singer-songwriter you've never heard of.
He's been featured in the New York Times. His likeness has been depicted in one of those New Yorker illustrations. He's played Lincoln Center, fer crying out loud.
Yet he knows when he arrives with his band for a Sept. 9 performance at Kerrytown Concert House, he'll do so as an unknown quantity for Ann Arbor music fans.
Know what? He's fine with that.
"Even though I don't have huge name recognition, I've been able to carve out a very nice career for myself and I've had some really nice success," Fishman said. "The wall I sometimes hit is a marketing wall, where people don't know how to define what it is I do.
"Biggest goal to me is to get people in the room. If it's good, it doesn't matter what the style or the genre is, they'll like it. Once they see it, they'll really like it."
And what's not to like? Fishman's songs are richly layered and abstractly evocative, hinting at jazz, folk and cabaret, without ever sacrificing grit or rough edges for the sake of a marketeer's vision of commercial value.
The value is in the songs and the way Fishman delivers them.
It's something the Connecticut native learned during a spell in New Orleans, where he went to launch his artistic career during the 1990s.
PREVIEW
Howard Fishman
Who: Singer, songwriter and guitarist, appearing with a quartet.
What: Unique mix of jazz, folk and cabaret.
Where: Kerrytown Concert House, 415 N. Fourth Ave.
When: 8 p.m. Friday, Sept. 9.
How much: $30-$10. Reservations: 734-769-2999.
"In NewOrleans, you can't get a way with anything that has an ounce of phoniness about it," he said. "No technical polish or audience pandering… any of the patina that's on a lot of music we listen to, it doesn't go there.
"You have to scrape it down to bare essentials."
After moving to New York a decade ago, Fishman fell into the city's artistic community, collaborating with everyone from jazz artists to singer-songwriter Nellie McCay.
And in the past nine months, he's released three albums, the travelogue "No Further Instructions"; "Better Get It Right," an homage to New Orleans; and "The World Will Be Different," a deeply emotional and personal document of a breakup.
"I didn't set out to make three records at once, I just sort of lost my mind and it happened," he joked. "And I didn't let the fact that it was crazy or commercial suicidal stop me."
Although he doesn't see the three albums as intrinsically connected to one another, the fact that all the songs were written and recorded at roughly the same time gives them a certain cohesion.
"I do feel they inform one another and speak to one another in subtle ways," he said. "But I didn't want to package them together because I feel they each make their own statement.
"Over time, if I'm fortunate enough that my music endures, people will begin to see each album as a part of a larger whole."
Fishman said his visit to Ann Arbor—his first—has dual purposes. He's recently become enamored with the underground singer-songwriter Connie Converse, whose mysterious disappearance in 1974 has never been solved.
"She was a young woman, who came to New York before singer-songwriters existed and couldn't really make it," he said. "She moved to Ann Arbor to take a job at the U-M and, in 1974, depressed and despondent, she packed up he Volkswagon Beetle and was never seen again.
"It's a story that I'm fascinated by and I want to learn more about her and try to find a way to incorporate it into some kind of project."