Posted on
Tue, Feb 26, 2013 : 10:56 a.m.
Refocused and re-energized Howie Day talks about new music coming to The Ark
By Kevin Ransom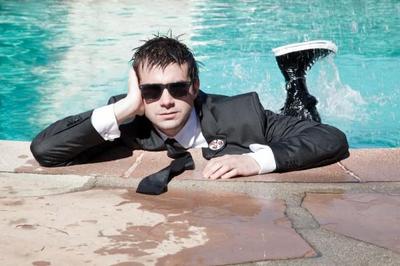 Back in the mid-2000s,
Howie Day
achieved pop stardom, and along with it, some notoriety. In 2004, he had a Top 20 radio hit with his song "Collide," which was ubiquitous—it was also heard on TV shows like "Grey's Anatomy," "Scrubs," and "Ghost Whisperer."
But over the next couple of years, he had a few legal dust-ups, once for reportedly locking a woman in the bathroom of his tour bus and smashing the cell phone of another, because he allegedly made a sexual advance and they refused.
Another time, he was arrested after reportedly being verbally abusive to the flight crew on an airplane and kicking the seats of other passengers while intoxicated.
After that, he went into rehab, and later was romantically connected with Britney Spears, so he also became fodder for the gossip mags.
Today, Day says that all of that seems like it was in another lifetime, and feels like he's been undergoing a "rebirth" over the last couple of years. "I certainly played hard when I was in my mid-20s. There were there moments when I lost my way and was a bad boy, absolutely," says Day, now 32. "You give 24-year-old kid a hit song and too much money, and stuff happens. And then when you do something bad, it does go under a microscope. Thankfully, I am past that. Enough years have passed now that when I think back on it, it all seems pretty shocking."
PREVIEW
Howie Day
Who: Singer-songwriter who notched a Top 20 hit in 2004 with the song "Collide."
What: Day specializes in running his acoustic guitar through delay pedals, and using tape loops, to create a bigger sound, and he's also presently accompanied by a cellist, pianist and percussionist.
Where: The Ark, 316 S. Main St.
When: 8 p.m. Saturday, March 2.
How much: $20. Tickets available from The Ark box office (with no service charge); Michigan Union Ticket Office, 530 S. State St.; Herb David Guitar Studio, 302 E. Liberty St.; or online from the Michigan Union Ticket Office.
Day moved from Los Angeles to New York City a couple of years ago, and he is no longer on a major label, and has written a batch of songs for his next album—which he says will be less produced, more acoustic and more of a singer-songwriter effort.
"I'm glad I was on a major for a while—I fulfilled that teenage dream of having a hit song," says Day, who comes to The Ark on Saturday. "The first time I heard 'Collide' on the radio, I was jumping up and down. It was a wild ride. But it was lot of pressure. Everybody at the label had an opinion about what songs I should record, and how they should sound, and of course, the major consideration was trying to get another hit.
"But this feels like the beginning of a new era. Maybe the Mayans were right, at least for me," he adds with a laugh.
After moving to New York, Day set up a recording studio in his apartment, "and I began doing a lot of writing, and my producer and I have been sifting through the songs. We'll start recording in the next couple of months."
Not being on a major anymore definitely will allow him more creative freedom, but it also means that "we won't have a big budget. So, we'll do record some things in a recording studio, and some in my home studio."
Day says that this time out, he's aiming for "a cool homespun vibe, and less of that 'shove-it-down-your-throat-pop' sound."
Day began his career as a solo performer, with just an acoustic guitar, but he later made a name for himself by using delay pedals and tape loops to create a bigger, quirky sound that approximated the sound of a full band. After he scored a hit with "Collide," the record company quickly put together a touring band for him, and he began playing bigger venues
But there was some backlash from his older fans who preferred his solo presentation. "People would come up to me after shows and say, 'That was cool, but I liked you better when it was just you and the guitar and the pedals,'" Day recalls.
He currently tours with a band, but now it's a much more organic-sounding one that includes cello, piano and a percussionist. "After all of the commotion over 'Collide' died down, I went back to playing solo, and then I very gradually added one musician at a time," says Day. "I really want to present sort of a 'living room' sound. My new attitude became, 'If it's too loud to be enjoyed in a living room, then it's too loud, period.'"
Regarding Day's affinity for the delay pedals and tape loops: "With those, I can do things that 99 out of 100 guys can't do if he's just playing acoustic guitar," says Day. "It sets you apart, having more sound coming from the stage. The loops are sound on sound on sound on sound, and that can be a lot more dynamic—the quieter parts can even seem quieter."
But he's not a hardcore tech-head when it comes to his rig.
I haven't changed my set-up in 10 years," he says. "The way I do it, there's no room for error. I don't have an 'undo' button, although they do make those now, and I run two samplers, but they're not synched—even though they make those now, too. I just like to keep as real, and as acoustic, as possible."
Kevin Ransom, a free-lance writer who covers music for AnnArbor.com, can be reached at KevinRansom10@aol.com.