Posted on
Tue, May 15, 2012 : 7:57 a.m.
Picnic Pops returns this weekend, featuring special guest
By AnnArbor.com Staff
After 50 years and still going strong, the tradition of Picnic Pops returns to the lawn of Pioneer High School this Saturday.
The citywide "ice cream social" is a chance to eat, socialize, and most of all experience the talent of the music programs in the Ann Arbor Public Schools. The music is free, with food and games available for low prices.
Following is the full schedule of Picnic Pops, which takes place May 19 on the front lawn of Pioneer High School, 601 W. Stadium.
10:30 AM Skyline Symphony Band 11:15 AM Huron Symphony Band 12:00 PM Forsythe 12:30 PM Skyline Concert Band 1:00 PM Huron Concert Band 1:30 PM Clague 2:00 PM Huron Varsity Band 2:30 PM Skyline Varsity Band 3:00 PM Slauson 3:30 PM AA Open 4:00 PM Pioneer Concert Band 4:30 PM Pioneer Varsity Band 5:00 PM Pioneer Symphony Band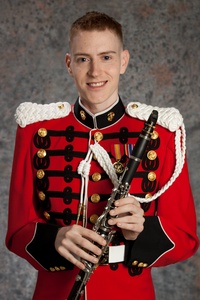 This year's performances by the Huron Symphony and Concert bands feature a special guest. United States Marine Band clarinetist
Jonathon Troy
will return to his hometown for those performances.
Staff Sergeant Troy began his musical training on clarinet at age 10. After graduating from Huron High School in Ann Arbor in 2001, he attended the University of Michigan, where he earned a bachelor's degree in music performance in 2005. In 2008, he earned a master's degree in music performance and an artist's diploma from Yale.
Prior to joining "The President's Own" USMB in May 2011, Troy attended the Music Academy of the West in Santa Barbara, Calif., performed with the Ann Arbor Symphony and the Delaware Symphony Orchestra in Wilmington, and was principal clarinet of the Las Vegas Philharmonic.
Staff Sgt. Troy performs with the Marine Band, Marine Chamber Orchestra, and Marine Chamber Ensembles at the White House, in the Washington, D.C., metropolitan area, and across the country during the band's annual concert tour.
Staff Sgt. Troy, the son of Alan Troy of Whittaker, Mich., and Maria Troy of Ann Arbor, currently resides in Washington, D.C.
For more information on Picnic Pops, see the Pioneer High School website.