Posted on
Mon, Mar 12, 2012 : 5:50 a.m.
Huron Valley Harmonizers offer music, a meal and a chance to challenge barbershop music stereotypes
By Roger LeLievre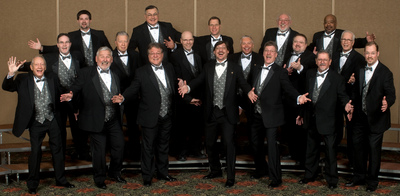 If the mere mention of barbershop music makes you think of geezers in straw hats and striped vests four-part harmonizing to sleepy tunes from decades past, think again. Although much of the repertoire may be tried and true, the rest of the stereotype doesn't always hold up.
"Barbershop is not just the hats, canes, moustaches and all that. It can be really, really dynamic stuff," said Rob Pettigrew, director of the Huron Valley Harmonizers, a barbershop chorus based in Ypsilanti. The group will offer its "Chords and Cuisine" show Sunday at Stony Creek United Methodist Church in Ypsilanti.
Even young people are discovering the power of four-part harmony a cappella singing, Pettigrew said.
"There's this thing (on TV) called 'Glee,' and the last 10 years have seen a huge rise in college a cappella. It's just going nuts. At the University of Michigan I think there are at least half dozen a cappella groups," he said. "When the kids get to experience what we call the ring of chords, it's addicting.
PREVIEW
Huron Valley Harmonizers
Who: Four-part a cappella / barbershop chorus based in Ypsilanti. With special guests What-4, Chordiology, Meta-4 and Olde Thyme Harmony Quartet.
What: "Chords & Cuisine" concert includes music, a pasta meal and desserts made by members of the chorus.
Where: Stony Creek United Methodist Church, 8635 Stony Creek Road, Ypsilanti.
When: 2 and 6 p.m. Sunday, March 18.
How much: $20. Info: 734-445-1925, www.hvharmonizers.org, or www.facebook.com/hvharmonizers.
"Traditionally barbershop has been about the old songs, and that meant songs like 'Down by the Old Mill Stream,' the old chestnuts like that. Recently we're seeing groups do Elvis tunes, Beatles and Michael Jackson songs. … Every generation is making this their own."
The Huron Valley Harmonizers, founded in the mid-1970s, range between 20-30 members hailing from Ypsilanti, Ann Arbor, Saline and beyond. The group not only offers several formal concerts a year, they sing at other events as well, as often as once a month.
"There's nothing like getting four voices together with no instruments, nothing else," Pettigrew said. "They start singing and they create harmony that, if it's done right, generates more than four voices' worth of harmonics. It's incredible, and addictive."
The group is a member of the Pioneer District (Michigan and Southern Ontario) of the Barbershop Harmony Society—also known as the Society for the Preservation and Encouragement of Barbershop Quartet Singing in America (SPEBSQSA).
The Harmonizers, named Pioneer District 2003 Chorus Champions, is also the home chapter of the four-member ensemble Chordiology, the 2007-2008 Pioneer District Quartet Champions.
William Stutts Jr., the Huron Valley Harmonizers' assistant director, said that even though some of the songs sung by barbershoppers might date back to the middle part of the last century, that doesn't make them any less worthy.
"Yes, some of the songs are of the old-time variety, but if it's good stuff it's good stuff," he said. "Even with some of the old songs, we can bring out the magic in them." And there's one other plus to barbershop singing, he added. "We don't have to carry any instruments."
The "Chords and Cuisine" show is unusual in that it includes a pasta meal, with desserts made by the chorus members. The desserts will be served at intermission.
Pettigrew said barbershop attracts men from all backgrounds and walks of life.
"This is something that's doable by anybody who likes to sing," he explained. "It's not about being Pavarotti, or about being whoever the latest greatest 'American Idol' guy is. It's not about being perfect, it's about loving to sing and loving to make music. That's what gets all of us the most geeked up.
"It's a common meeting place, our love of making harmony … if you love to sing, we'll make it better," he vowed.
The group meets for rehearsal every Tuesday night from 7:30-10 p.m. at Stony Creek United Methodist Church, and interested folks are welcome to just show up to check the ensemble out, Stutts said.