Posted on
Thu, May 19, 2011 : 5:51 a.m.
Hut-K Chaats puts a healthy spin on tasty Indian snacks
By Julie Halpert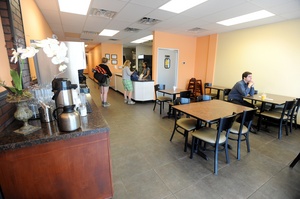 Angela J. Cesere | AnnArbor.com
One of the best parts of a visit to the new Hut-K Chaats is getting a tutorial from the owner, Mahaveer Swaroop Bhojani, about how he has turned traditionally popular, greasy Indian snack food into a healthful delicacy.
As you hear him describe how he cooks away the fatty oil from the crusts used in one of his dishes and the way he replaced a sauce usually made with sugar and tamarind with dates to get it naturally sweetened, you immediately begin to feel healthier, without even having taken a bite.
Bhojani, a cancer researcher at the University of Michigan by day, says the Indian snacks are extremely popular in his native country, but that much of the addicting appeal was what made them bad for you — the fried element and the high sugar content. He aims to provide nutritious snacks with cancer-fighting ingredients — "nutralicious" dishes that also happen to taste good.
RESTAURANT REVIEW
Hut-K Chaats
3022 Packard Road
734-786-8312

Hours: Tuesday-Saturday, 11 a.m.-9 p.m.; Sunday, 11 a.m.-7 p.m. Closed Mondays.
Plastic: Visa, Discover, Mastercard.
Liquor: No.
Prices:Inexpensive. The average dish is $5.
Value: Good.
Noise level: Medium.
Wheelchair access: Yes.
The place could use some decoration. It's virtually barren, with a few tables and empty walls painted bright orange. But what the restaurant lacks in warmth and ambiance is made up for with Bhojani's demeanor.
He runs the restaurant with his wife, Sumi, and you feel like he's a proud host and you're the welcome guest. When we were there, one of his two boys, age 10, sat down and chatted with another customer, and he was as endearing as his father.
The menu is limited, consisting of just four categories of dishes — all vegetarian, some vegan — with a few choices in each, along with delicious complementary chai tea that has a spicy yet sweet taste. Opting for just a few items makes for a filling meal.
Each dish presented a combination of flavors I hadn't experienced. The first we tasted, resembling an appetizer in a mini pie-crust shape, was dahi sev puri. It had a crispy crust, but was light, not greasy, due to Bhojani's process of draining the excess oil. As you bite into it, the yogurt oozes out, making for a messy eating experience. But it's a unique combination of flavors.
The menu has a variety of "chaats," ample-sized Indian snacks. My favorite was the hearty Shanu Chaat, made of chickpea flour, colocasia leaves, baked multigrain chips, potatoes, peas and chickpeas. It comes with a spinach, mint and cilantro sauce and a dates and tamarind sauce.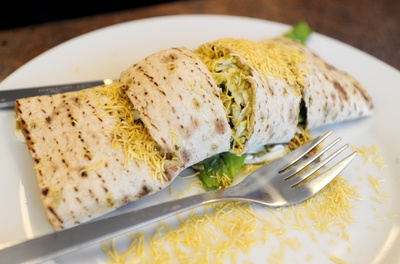 Angela J. Cesere | AnnArbor.com
We sampled three of the wraps — the best category, hands down. Though I enjoyed the paneer wrap, filled with cheese, the standout was the quinoa lentil wrap, seasoned with herbs and spices, smothered in chickpeas. It was healthful, yet filling and delicious.
The vegetable samosa roll was also delightful. Instead of a deep-fried crust like the traditional version, the filling was wrapped in a multi-grain roti, resembling a tortilla.
The ancient grain original was a pancake, made of African millet, quinoa, wild rice, barley and brown rice. We were told it was the mild version, but it was spicy. That same type of pancake didn't work as well as the foundation for the tomato, basil and mozzarella pizza. Though I appreciated the fresh ingredients, including basil leaves (vs. the dried spice) would not appeal to those hankering for a typical pizza.

I least preferred Kate's surprise, a mound of wild rice, brown rice, millets and quinoa. I didn't think the mango seasoning complemented the rice very well, though I appreciated how the owner cleverly added protein with the mix of peanuts, almonds and walnuts, which also added a crunchy texture.
The mango lassi, made with fresh fruit, and the coconut ice cream, with slivers of coconut throughout, provided a refreshing conclusion to our meal.

Food was delivered promptly on both our visits, despite the fact the place was busy and only the owners were staffing the kitchen by themselves. There's a definite community feel to this place, as if the neighborhood embraced its arrival.
The unusual, nutritious take on Indian food, prepared by an enthusiastic and welcoming husband and wife team, should make it a coveted new dining spot.
Julie Halpert reviews restaurants for AnnArbor.com.