Posted on
Wed, Dec 19, 2012 : 5:59 a.m.
If the world ends Friday - or even if it doesn't - Black Jake & the Carnies will be ready with apocalypse show at The Ark
By Roger LeLievre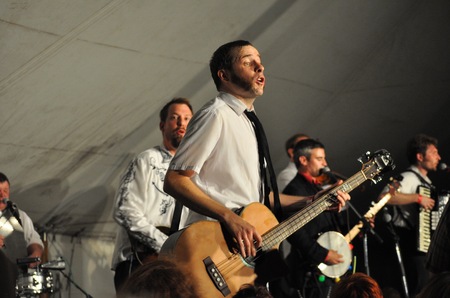 photo by Frank Weir
If, like the Mayans predicted, the word is going to end on Friday, then
Black Jake & the Carnies
plan to go out in style—making the same kind of high-energy "crabgrass" music for which the Ypsilanti-based band has become known.
To join them, head over to The Ark for the "Apocalypsemas Special," a show that promises—given the band's high-energy reputation—to be pretty much a good time, apocalypse or not.
"We had originally planned on just doing a Christmas special show, but we decided to add the Mayan apocalypse theme as well when we found out the date. It's a mash-up to two special holidays—Christmas and the end of the world," explained "Black Jake" Zettelmaier (banjo and lead vocals).
"It's a rare opportunity and we plan on taking full advantage of it," he added.
The group mixes old-timey strings with fast-paced, dark-themed lyrics and a punk rock feel in order to achieve its sound. It is at its most charismatic during live shows, especially when Black Jake cranks up his banjo (complete with flashing, colored lights on the body), and the bells, whistles, kazoos, hoots and hollers mix in.
PREVIEW
Black Jake & the Carnies "Apocalypsemas Special"
Who: Ypsilanti-based roots band consisting of "Black Jake" Zettelmaier (banjo and lead vocals), Gus Wallace (fiddle), Zach Pollock (mandolin/vocals,) "Jumpin' Joe" Cooter (bass guitar), Billy "the Kingpin" LaLonde (drums / washboard / vocals), and J.C. Miller (accordion/ vocals). Detroit folk duo Lac La Belle opens.
What: "Crabgrass" band offers a lively show for the holidays.
Where: The Ark, 316 S. Main St.
When: 8 p.m. Friday, Dec. 21.
How much: $15. Info: www.theark.org or 734-761-1451.
And although it may not be connected with the apocalypse, the show is somewhat apocalyptic in that the performance will mark the last performance with the band of long-time mandolinist Zach Pollock.
"Our mandolin player is moving to Chicago, so this is going to be our last official show with him," Zettelmaier confirmed. "He's been with the band since 2006, when the current lineup all came together. … He's irreplaceable, but we're going to try anyway."
Not that anyone is wasting any time. The Carnies have recruited Andy Benes from the band Back Forty. "We've had him over for a few practices and he'll do a slow dissolve into the new mandolin player," Zettelmaier said.
For The Ark show, the Carnies will probably play songs from their first and second albums (2008 and 2011), perhaps including "Jasper Watkins," "No Diamond Ring" or "My Evil Friend." Additionally, Zettelmaier promised some tunes from an upcoming EP the band is currently working on at Ann Arbor's Big Sky Recording, slated for a 2013 release.
Some of his original art prints will also be available at the show, Zettelmaier added.
One thing, thoughÚ Don't expect any traditional Christmas music.
"We don't have that many Christmas songs, to be honest—we just don't know that many," he admitted. "We do know one and we might do another as a special treat that some of us learned on Beaver Island in conjunction with Lac La Belle (the Detroit-based folk duo that will open the show) and that is the singing pyramid, which I think is particularly suited to the Mayan holiday, what with sacrifices on top of pyramids and everything."
Meanwhile, Zettelmaier admitted—apocalypse or not—it's best to be ready for whatever happens.
"I figure it pays to hedge your bets when it comes to these things," he said, tongue-in-cheek.