Board Game Reviews
Critical Hits:

Resolve to play better casual games with Carcassonne

Posted on Mon, Jan 3, 2011 : 7:45 a.m.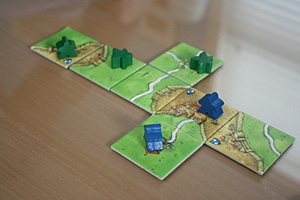 Mike Hulsebus | Contributor
For those of you that have been looking for me to review more family games, I'm happy to report that a few years down the road, I'll be able to start giving you some: my first daughter was born earlier this month on Dec. 6. Today I am ending the baby-induced hiatus that my reviews have taken and looking at Carcassonne. Though my daughter is years from playing it, Carcassonne is a good family game. As you may remember, I named Carcassonne the second best game for couples in my 2010 holiday gift guide, but I have never given it the full review treatment.
Carcassonne is a tile laying game. As players pick tiles up, they place the tiles anywhere that the edges match, making the features of the map appear over time. As they create features, players can place wooden tokens (called meeples) on those features so that they score when the cities, roads and churches are built. I'll start out by teaching a few aspects of the rules followed by an actual review of the game.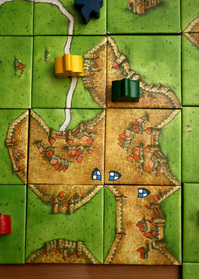 Mike Hulsebus | Contributor
How it plays
There are four ways that you can play a meeple. You may only place a meeple on a tile that you have just placed, so you one have one opportunity to claim each feature as yours. Furthermore, you have a limited supply of meeples, so you need to maximize scoring by only playing their meeples on items that will score them the most points; you don't want to miss out on big points because all your meeples are busy on small features that won't earn many points.
A meeple placed on a city tile will score two points when the city no longer has any exposed, open edges. Note how the city with the green meeple on it still has one open edge to finish. When finished, the city scores two points for each tile that a city uses and for each shield icon in the city. Once a city (or other feature) is scored, the meeple returns to that player's supply, ready to be sent out again.
When you place a meeple on a road, that meeple scores when that road is finished. A road is finished when it either dead ends (as it does here with the city) or comes to a crossroad. Each tile in a road is worth one point. Yes, that is fewer points than you would get for a city, but you aren't always going to draw city tiles and if you ignore roads, you'll be missing out on opportunities to make points.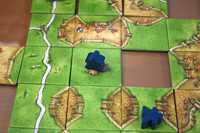 Mike Hulsebus | Contributor
There are six churches in the game, and when you place a meeple on a church, that meeple scores when it is completely surrounded by tiles.
Farmers are the most complex piece to score. You place them down on a section of grass and then, at the very end of the game, farmers score four points for each completed city that is in their farm's reach. A farm's border is defined by all the cities that the grass touches, its border stopping at a road.
That's by no means a comprehensive look at the rules, nor is it completely correct (more on that later), but that's enough to give you an understanding of how the game works. A full rulebook pdf is available on the publisher's website if you wanted to get ambitious, but I imagine that the iPhone app teaches it better than just reading the rules.
There are two main things that, for me, make the game. For one, it's a lot of fun to see the board and its features develop over time. It's fun to see just how big you can make that city and to suddenly get that piece you need that completes your city.
Secondly, it's fun to use the pieces to your advantage to try and steal features or to make life harder for your opponents. See, it's a rule in the game that, if someone else has a piece on a particular feature, you can't just add one of your guys to that feature to steal it. You can, however, connect two separate features. Let's take a look at an example.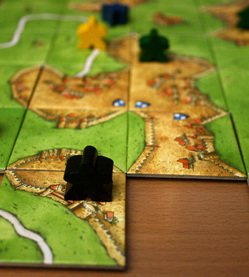 Mike Hulsebus | Contributor
Here is the green city from the previous photo. Notice how while the black meeple may eventually connect, at the moment it does not. This is a legal play. If later the two cities are merged into one city, both players with an equal number of meeples on the city will score points for the city.
The Review
I think that there are two great times to play Carcassonne: when you have no idea what tiles exist and when you have it pretty memorized what pieces are out there.
Carcassonne is a fun game. I think you'll like it. But I must warn you. You will play a few games and think, "Hey, that was a fun experience. I see that there are expansions for this game out there! Buying them will undoubtedly make my experience more fun!" but you'll be wrong. Expansions, for the most part, add unnecessary randomness. It's as if the designers said, "Hey, so, what if there was this tile, and when it came out a thing would stomp around the board and EAT PEOPLE" or "Hey what if, instead of placing meeples, there would be also be times when you would toss them and try to catch them" or "What if there were random symbols on the cities, and whoever got the most of a symbol type got some random bonus points!" If you really had to buy an expansion, buy Inn and Cathedrals, but then that's it. The other ones just add rules without adding enough fun.
I have probably four different expansions and have, over time, found that I would rather play multiple quick games of Carcassonne than I would play one super long game of Carcassonne (each expansion comes with more tiles).
What I like about the base game is that you get a good feel for what tiles are out there after a few plays. With this knowledge, you can potentially block off an opponent so that his city is unfinishable. I like Carcassonne best as a two-player duel game, and that's how I came back to playing it again — playing games on brettspielwelt.de, a German site that allows you to play a Carcassonne (and other games) for free against other people.
Don't buy this game if the luck-of-the-draw element is going to bother you. The best player might often win, but certainly won't every time. Sometimes a player is just going to luck out and get the most useful pieces while you only get roads.
Mike Hulsebus | Contributor
My other main complaint about the game is how farming works. You cannot win the game most of the time if you don't build farms. A well-placed farmer can score 30 points and up, which is often enough to decide the game. As a result, games can devolve into farming wars where each player might have two or three meeples tied up trying to gain control of the largest farm. I think that the makers have seen this problem with the game, and I understand that the farming rules have changed since I got my copy in 2004. While I like that they lowered the overall points per city to three points, the scoring has changed such that cities, depending on how farms are organized, can potentially score multiple times.
This is a game that I would recommend to people looking for a casual game. Still, as far as casual games go, what makes it a good game is the choices presented to the player that don't have one right answer. You'll be asking yourself questions like:
-Should I expand this city, or is it getting too big to ever finish? If I make it too big will someone try to steal it away from me?
-Is it worth playing my last meeple on this road if it will score me points soon, or should I hold onto it for other scoring opportunities later?
-If I play this tile here, should I risk the fact that if my opponent gets the road church tile he'll have the perfect play?
So what makes Carcassonne a good game is that it's a casual game without being mindless. If I have gaming friends over, this isn't a game that we're going to pull out (unless they've never played it, in which case I might insist they give it a try), but it's a great game for quick plays here and there. With our new baby, I don't have the same amount of time for board games these days, so I expect to play a good number of online games in those wee hours of the night when I just know that the baby's going to be waking up soon.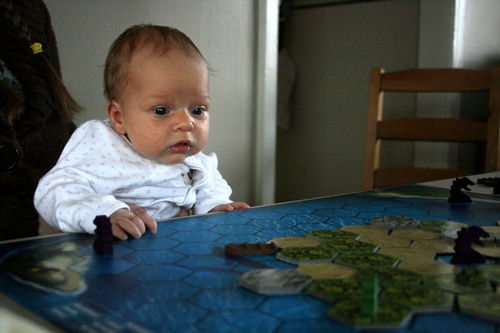 Mike Hulsebus | Contributor