Posted on
Tue, Nov 9, 2010 : 11:13 a.m.
Mike White's 'Impossibly Funky' book signing event coming to Vault of Midnight
By Jennifer Eberbach
Southeast Michigan-grown film zine creator and writer Mike White loves cult classics, "B" movies and early "Star Wars," but he also knows how to call people out when they make bad movies.
For 14 years and 15 issues, White's film zine, Cashiers du Cinemart, has loved and hated on films and film culture.
The University of Michigan alum will sign copies of his newly released retrospective book, "Impossibly Funky: A Cashiers du Cinemart Collection", and present two hours of video at a Vault of Midnight event on Nov. 12 at 7 p.m.
The articles White has compiled in his book trace major themes that he and other Cashiers du Cinemart writers covered during the zine's run. It includes reissued and reedited versions of movie critiques, interviews with celebrities, analyses of movie scripts, a section on the blaxploitation film "Black Shampoo" (his childhood favorite), a collection of articles on "Star Wars," his somewhat infamous critique of Quentin Tarantino, and articles covering "life," including a rewritten version of his look at working at a movie theater.
For those who may have never read one, zines differ from traditional magazines in a number of ways. Like a magazine, Cashiers du Cinemart featured articles, comics and other entries. However, zines can be considered "more underground," White says.
He self-published his zine, which he believes gave him certain "liberties" that he would not have had if he had decided to write for an established news publication. Life as a film writer has been Do-It-Yourself.
Learn more about the Cashiers du Cinemart anthology, "Impossibly Funky":

"Cashiers du Cinemart was never topical and I never cared about what new movies were coming out when. I liked talking to people about their old stuff and I didn't really give a rip about new releases. I want the backstory," he says. Writing about the latest headlines does not interest White very much. "I'd rather talk to people who have been out of the limelight for a little while. Tell me about a movie you made 20 years ago that you're not promoting now," he explains.
Some of the articles White wrote for Cashiers du Cinemart took a decade to formulate, he tells. "I need to uncover everything that I possibly can before publishing something — sometimes before I can even start writing it," he says. Producing the Impossibly Funky retrospective book gave him another chance to rework old articles. "I've been able to finally produce the definitive article," on a number of topics, he explains. The book also include new, never before publish content and interviews, including one with actor Crispin Glover.
Impossibly Funky features a number of articles that chronicle significant moments in the zine's history. Bruce Campbell, cult star of the "Evil Dead" horror film trilogy, was White's first celebrity interview.
"That was the first time I really reached out to a celebrity for an interview for the zine. It was a real boost hearing, hello this is Bruce Campbell, on the other end of the phone," he recalls.
White says he has pretty much written the same article about "Star Wars" over and over again. The book gave him a chance to "crunch it all together, show different versions and the evolution of the article over the years," he says. It also includes a section featuring a series of articles on "Black Shampoo," the campy blaxploitation movie from the '70s that holds a lot of nostalgic value for White.
Quentin Tarantino beware. The book dedicates a section to White's exploration of the similarities between Tarantino's highly acclaimed "Reservoir Dogs" and Ringo Lam's 1987 film "City on Fire." Back in college, White made a short film, "Who Do You Think You're Fooling?" which compared the two movies, and he showed it at the New York Underground Film Festival. The story ultimately contributed to a media stir and got him banned from the festival.
"I wasn't the one that original broke that story. There was a magazine in the UK that put that together. Mike Thompson (his college buddy and a contributing writer to the zine), came into class one day. We were huge 'Reservoir Dogs' fans. He said, I just read in Empire magazine this it is from this movie. I expected that the magazine reviews would make this comparison and I expected Tarantino to claim 'City on Fire' as an influence. But none of the magazines were talking about it. He didn't credit the movie as an influence. So, I didn't crack the story, but I did help publicize it. Film Threat magazine ended up doing a thing about it and I sent them the tape I'd done. Then it broke huge," White recalls.
Another section of the book features critical reviews of movie scripts, like unpublished scripts and alternate drafts. "There was one script for my 'Superman' piece. Everyone kept writing about (Bryan Singer's 2006 'Superman Returns'), but they were quoting everybody else. I was like, I'm not going to quote everybody else on the script, this is ridiculous. I need to find that original script and read it myself, so I didn't have to say something like, this movie is reportedly 'Matrix'-like. The script alluded me for a while, but when I got my hands on it, I got to see how it was also quite different from 'The Matrix,' and here's the real story," he says.
Although many of the articles that appeared in Cashiers du Cinemart can be considered negative reviews, there are also plenty of examples of positive pieces. "It's not about hating on things, although it does some of that. I always encouraged the other writers to write about what they love and convince me why it's good," White says.
White has gathered almost two hours of movie trailers and music videos to screen at his upcoming Vault of Midnight book signing. The screening will also include his short film critique of Quentin Tarantino, "Who Do You Think You're Fooling?" He will sign copies of Impossibly Funky and talk about the Cashiers du Cinemart zine and his influences.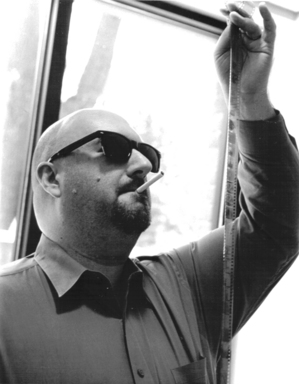 photo by Stacey Walters
"I went kinda crazy with the previews, filling up almost two hours, but they move pretty fast. Some of them are less than a minute, but they tell you enough of the story that you can decide if you want to see it," White explains. Movie trailers from "cultish movies that I mention in the book and movies I think people should see," will mostly be from the past. "You'll find Monte Hellman's 'Cockfighter,' Frank De Palma's 'Phantom of the Paradise,' Daniel Minahan's 'Series 7' and lots of others," he says. White will also preview a couple of recent or upcoming movies that his friends have made.
White has also mashed together "found footage" and music to create a number of music videos, which he will screen at the book signing. For example, he mixed footage from the mid-20th century television classic Leave it to Beaver with Doktor Kosmos' 1997 song "Porn Person."
As for the future of Cashiers du Cinemart, White says that "the zine is pretty much dead at this point. It was time for a retrospective." However, since stopping the zine after the 2007 issue, White has contributed a couple of articles to other zines and he continues to judge at film festivals — his most most recent jaunt as a festival judge was at cinekink nyc early this year.
Find out more about Impossibly Funky: A Cashiers du Cinemart Collection on Mike White's blog or view archived issues of Cashiers du Cinemart online.
Jennifer Eberbach is a freelance writer who covers art for AnnArbor.com.