Posted on
Fri, Feb 10, 2012 : 5:57 a.m.
'Inherent State' exhibition features two sets of sisters, four distinct voices
By Jennifer Eberbach
When fabric artists Brooks Harris Stevens and Sarah Wagner became friends, they were amazed by how much they have in common. They are both fiber artists who usually utilize fabric to create sculptural artworks that parallel reality in a conceptual way. But the similarities between the women run deeper than that.
"We were fascinated by the fact that we both have sisters who happen to be creative writers," Harris Stevens says.
Harris Stevens is an art professor at Eastern Michigan University with a sister, Western Carolina University English composition lecturer Jennifer Harris, who writes stories. Wagner, an instructor at the School of the Art Institute of Chicago, has a sister, Miami University in Ohio Associate Professor Cathy Wagner, who writes experimental poetry.
For their upcoming Inherent State exhibition at the Ann Arbor Art Center, the fiber artists present artworks that respond to their sisters' writings in one way or another. The exhibition runs Feb. 10 through March 18, 2012, with an Artist Reception on Feb. 10.
The two fiber artists will also lead a special workshop, "The TEXTural Object," on Feb. 25 from 9 a.m. to 4 p.m. that will focus on techniques of incorporating text into art objects.
One of the first artworks Wagner hung up when they started installing the show on Tuesday is an enlarged sculpture of a fire hydrant made of silk organza (coincidentally one of Harris Stevens' favorite fabrics) that hangs from the ceiling. The valves of the hydrant are greatly elongated, almost resembling the arms of a blouse, with long frills snaking forth from the ends.
"Recently, my sister has been writing a series of poems about putting yourself into a trance state. She did so by speaking in tongues and recorded herself while she was doing it. She used it for raw materials in an in-progress, long-form poem, entitled American Darling Bells, which references fire hydrants," Wagner explains.
"To me, it's the idea of opening up one's self as a valve. You can be open or closed to experiences. I also think that both the artwork and the poem examine time as a construct. When one is in a trance, it's not based on ordinary time. I was really fascinated by that," she says. She made the large silk fire hydrant to capture a similar sense of "expansion," she says.
Wagner incorporated some of the abstract words that came out of her sisters experiments with trance and speaking in tongues into her artworks. Smaller versions of fire hydrants made of the manila paper she uses to design fabric pieces abstractly spell out the words "Nga Gnang Gnang," from the poem.
She says the long valves didn't remind her of a blouse, rather while she was making the piece they started reminding her of how a woman's body changes breast-feeding a newborn. "My exploration started tapping into things I didn't intend. Fire hydrants ended up looking like busty ladies to me. It's interesting because looking at the visceral aspects of being a woman and a mother is part of my sister's work. Her book, Macular Hole, is very much about such visceral experiences," Wagner explains. She did not foresee making that connection when she started the piece, but it became a happy outcome of her artistic thought process.
Harris Stevens and her sister Jennifer Harris' half of the exhibition is invested in exploring the different ways that the sisters remember experiences from their childhood growing up in Raleigh, North Carolina. The fabric artist was inspired by her sister's short stories about their father to create many of the elements in the exhibition. But how and what the sisters remember differs from individual to individual.
Three white mens dress shirts, stripped of everything but their seams, collars, and cuffs will hang from the ceiling like skeletons. Tobacco piled on the ground really pulls on your sense of smell. The shirts and tobacco symbolize their father who died from lung cancer, and they also remind Harris Stevens of car rides with the windows up passing by rows of tobacco as a child. She repeats the image of a shirt collar, "like white noise that's always there," on a wall in charcoal.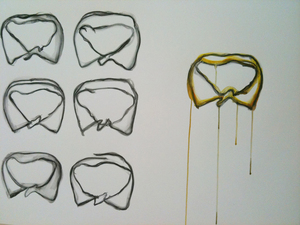 One of her sister's short stories that inspired the work is about, as its author Jennifer Harris explains, "when my dad died in a hospital. I wasn't there. I willingly went back to the house to do something, partially not to be there. The piece reflects on the moment in which my dog died," she explains.
Another of Harris' stories about their father "reflects on his influence on my love of reading. A lot of my trips with him to the bookstore were also wrapped up in trips to the bar, so it's about spending time in bars and spending time in bookstores. Those memories are interchangeable. We would play pinball or sit at the bar talking to bar flies. There were fond memories of really cool people, but sometimes there's nothing as frightening to a child than a drunk person," she explains.
"It's interesting to see how my sister incorporates my writings into artworks about her own memories. We have distinctly different relationships with our parents, although we lived in the same house, and we have different recollections. At the same time, we both seem to embrace being hyper-conscious of responding to our past. Neither of us seem to be fighting that influence," Harris says.
Another of Harris Stevens' artworks in the exhibition, Balancing All Shades of Grey, "is an analysis of the process of remembering," she says. A life-sized, clear acrylic seesaw is accompanied by felted spheres of different sizes in different shades of grey with a little orange thrown in.
"As a child, memories seem black-and-white, very definite. Then as you get older, they are all these different greys," Harris Stevens says.
The commonalities between Harris Stevens' and Wagner's approach to fabric art and their color schemes will work well together to create a congruous look, as far as the exhibition as a whole. However four distinct voices are raised in the gallery space from four creative women who each look at life from their own perspective.