Posted on
Tue, Jan 17, 2012 : 7:39 a.m.
Ark hosting 4 masters of the instrument for International Guitar Night
By Kevin Ransom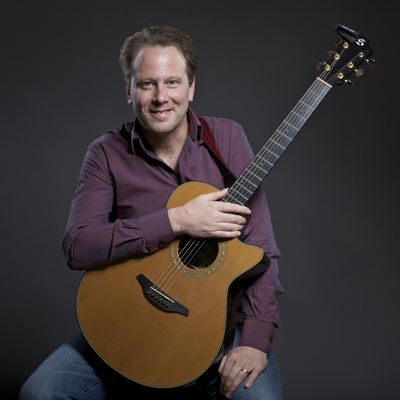 Brian Gore
, the founder and organizer of International Guitar Night, spent the first eight years of his life in Ann Arbor. And he attended his first concert at The Ark—in its first location, in the house on Hill Street, back in the 1960s.
So, needless to say, he's looking forward to returning to Ann Arbor when the IGN comes to The Ark on Saturday.
"When I was 8 years old, my mother became ill, and I moved out to California, to live with some aunts, and I never returned," says Gore, who later learned he has two half-sisters and a half-brother in Ann Arbor, who he just re-connected with last year.
"So that will be wonderful, to see them again, and to return to the place where I saw my first concert. I remember that my aunt took me to that show, but I can't remember who the artist was," he says.
Gore founded IGN in 1995 to introduce audiences to different styles of acoustic guitar music. For each tour, he's made it a point to recruit players from other countries and cultures.
"I think it's impossible to portray acoustic guitar music without it being from a global perspective," says Gore from his home in Los Gatos, Calif. "The global nature of it goes to the history of the guitar. So, right from the start, we made sure we included guitarists from different countries."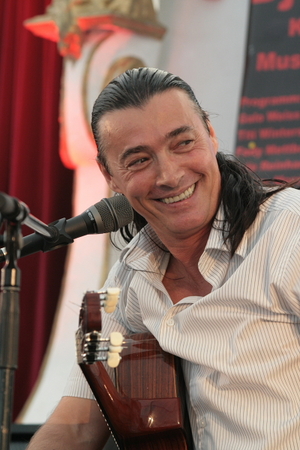 This year's lineup includes Gore; British guitar phenom
Adrian Legg
;
Marco Pereira
of Brazil; and
Lulo Reinhardt
, "who is a Sinti Gypsy, who traveled with his family's Gypsy caravan until he was 16, and whose parents were German," notes Gore— and who is a descendent of Django Reinhardt, the brilliant. pioneering, Gypsy-jazz / hot-jazz guitarist.
IGN has also released several albums. The most recent, "International Guitar Night VI," was released in September, and features cross-cultural collaborations among those four players.
Reinhardt grew up playing the Gypsy jazz style with his father and brothers, but he also studied Latin American and flamenco styles. The result is a style he refers to as Latin swing.
Piera, meanwhile, is classically trained, and is also an arranger, with a specialty in Brazilian rhythms. "He's really helped mainstream modern Brazilian music into the classical repertoire," says Gore.
For more detail about Legg, see my April, 2011 story on him.
As for Gore himself, he cites Michael Hedges, Alex de Grassi and Pierre Bensusan as among his greatest influences, and he also incorporates Brazilian elements into his style. "Where I grew up in California, there is a lot of fingerstyle guitar, and I like working in an impressionistic mode that's poetic and emotive, using a lot of alternate tunings."
Here's how an IGN tour / album works: "About six months before a tour, we'll get together, and create a program of all-original compositions," explains Gore. "Then we'll rehearse for a couple of days, and then do a concert, which is recorded, and that becomes the album."
Having just 2 days to rehearse is a "big challenge, and it's trial by fire, but there is not one time when we haven't knocked it out of the park," says Gore with pride. "That approach really brings out the best in the players."
On the latest disc, one thing Gore wanted to do was to "do some stuff with slide guitar, which is kind of a departure for me, because really don't play the slide that often, but I recently became interested in Indian slide-guitar music, and the way the slide lends itself to Eastern music." Indeed, Gore's slide work on the album has a raga-fied quality.
Another way "VI" is different than previous IGN releases is that it has more of a jammy, improvisational quality. "Some of the pieces are quite loose and open, a lot more than what has been typical on previous IGN albums."
PREVIEW
International Guitar Night
Who: Four guitarists: American Brian Gore, British guitar phenom Adrian Legg; Marco Pereira of Brazil and Lulo Reinhardt, a Sinti Gypsy who specializes in Latin swing.
What: An eclectic hybrid / commingling of various guitar styles from different cultures, with the players performing both solo and together.
Where: The Ark, 316 S. Main St., Ann Arbor.
When: Saturday, 8 p.m.
How much: $30. Tickets available from The Ark box office (with no service charge); Michigan Union Ticket Office, 530 S. State St.; Herb David Guitar Studio, 302 E. Liberty St.; or online from the Michigan Union Ticket Office.
Yet another new aspect to the recent album and current tour is that electric guitar has been introduced into the IGN mix for the first time—in a manner of speaking. "Adrian has this acoustic-electric that he had custom-made for him by the builder, who he worked very closely with," says Gore. "So it has an electrified aspect that we've debated about for a long time, but he still uses his usual fingerstyle approach, and his technique also resembles the approach one would use when playing a lap-steel."
The show itself is split into two sets. In the first set, each player performs two solo songs each, and then they all assemble as a quartet for one piece at the end. And the second set is all four of them, playing together in the same quartet configuration.
"People often wonder, when they hear us play solo, how our different styles will mesh when we play together," says Gore. "I think it's interesting to show the audience the ways in which these styles are different, but also the ways in which they are similar.
"Adrian and I have some commonalities, and Lulo and Marco have some commonalities," says Gore, before adding, with a laugh, "And with Adrian and Marco, there is both surprise and elation."
Kevin Ransom, a free-lance writer who covers music for AnnArbor.com, can be reached at KevinRansom10@aol.com.