Posted on
Fri, Dec 4, 2009 : 6:13 p.m.
iPhone concert by U-M students will mix technology, creativity
By Roger LeLievre
Anyone who owns an Apple iPhone probably knows you can do just about anything on the darned thing. But are you ready to use it to make music? A group of University of Michigan students is on the cutting edge of new technology that might someday lead to an orchestra made up entirely of iPhones.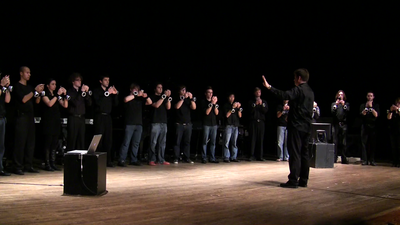 photo by Joe Wieciek
As the
Michigan Mobile Phone Ensemble
, the students will perform their original compositions at a
free public concert on Wednesday, Dec. 9
.
The class — Building a Mobile Phone Ensemble, believed to be the first such course in the world — is taught by Georg Essl, a computer scientist, musician and an assistant professor in the Department of Electrical Engineering and Computer Science and the School of Music, Theatre & Dance.
"The mobile phone is a very nice platform for exploring new forms of musical performance," Essl said. "We're not tethered to the physics of traditional instruments. We can do interesting, weird, unusual things. This kind of technology is in its infancy, but it's a hot and growing area to use iPhones for artistic expression."
Click here to download an iTunes video of Essi's students performing a work called "Drone."
Several years ago, Essl and his colleagues were the first known to use the microphone as a wind sensor — a tactic that enables popular iPhone apps such as Ocarina, which essentially turns the phone into an ancient type of flute.
For this class, Essl said, students learn to program an instrument with just the Apple SDK, a software development environment that allows developers to write programs that can be installed and run natively on the iPhone.
"Writing their own software is part of the educational experience," Essl added. "The course will hopefully create people who will write the next big thing that could be like Ocarina but new and different."
An iPhone has a half-dozen different types of sensors to run its touch screen, microphone, GPS and so on. Information from the sensors —Â from a finger touch to a shaking motion — can be turned into sounds that emanate from speakers the students wear on their wrists.
There are no rules when it comes to the kinds of music that can be created, said Essl.
"(It's) all electronic music; some is going to be very rhythmic, others very easygoing, some is going to be very experimental. Some is going to be humorous, some will involve the audience. Some will play with light and color. A lot of it will be new and unusual. The idea is how can you take the iPhone that it its own instrument and actually write stuff for that? We don't try to be a sit down, classic orchestra where instead of a violin we have an iPhone that sounds like a violin. It's a new ensemble, on its own terms."
The students in his class already have had some traditional musical training, Essl added.
"People come with their own backgrounds and interests. There's one student who really likes the notion of feedback, so he developed an instrument that allows him to easily create a lot of feedback and he writes music that plays with the notion of feedback. There's another student who likes rhythmic music and so he's come up with a way to have a rhythmic piece play, and he actually uses colors on the screens of the iPhones."
The class and the concert have been generating some buzz in the tech world, including articles on Yahoo! News and Macworld.
Although the concept of teaching a class in the subject is new, the idea of using mobile devices for music actually goes back around 20 years. Essl credits Oliver Wittchow as an early innovator — he came up with the idea of using a GameBoy as a musical instrument in the late '80s and early '90s. Later on, people started taking PDAs, the predecessor to the smartphones, and trying to turn them into music machines. He said his interest in this area started around 2005 when the first useful smartphones emerged.
Similar ensembles exist at Stanford University (the original MoPho), the Helsinki MoPho, and the Berlin Mobile Phone Orchestra.
"It's a small community," said Essl. "We know each other and we exchange and play together."
Wednesday's concert will consist of all new works written and performed by Owen Campbell, Justin Crowell, Rishi Daftuar, Sivan Jacobovitz, Devin Kerr, Eric Lapointe, Colin Neville, Matthew Steele, Raphael Szymanski, Nathan Zukoff and Colin Zyskowski.
PREVIEW The Michigan Mobile Phone Ensemble Who: Students of University of Michigan computer scientist / musician Georg Essl, who teaches the class Building a Mobile Phone Ensemble. What: All new works composed by the students and performed on virtual instruments programmed on their iPhones. Where: Britton Recital Hall in the E.V. Moore Building, 1100 Baits Dr. on U-M's North Campus. When: 8 p.m. Wednesday, Dec. 9. How much: Free. Details: http://mopho.eecs.umich.edu/
Roger LeLievre is a freelance writer who covers music for AnnArbor.com.