Posted on
Wed, Jul 3, 2013 : 7:34 a.m.
Ira Glass talks about dancing, Fred Armisen's impersonation and more
By Jenn McKee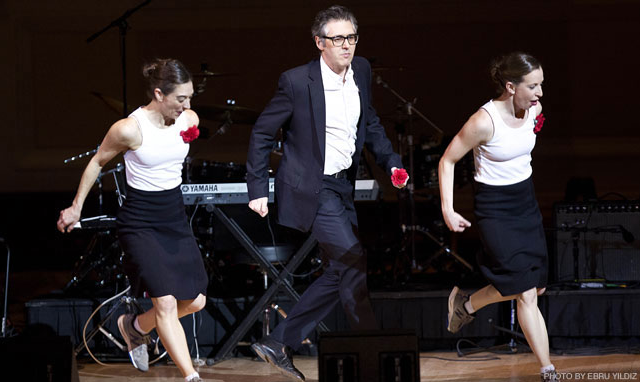 Though
"This American Life"
host
Ira Glass
created - with
Monica Bill Barnes and Co.
- a live show that combines storytelling with dance, he counts himself among the many Americans that don't often seek out dance as a form of entertainment.
"I think a lot of us - we don't know where to start," said Glass. " … It's like poetry. … Someone will read a bit of a poem, and you'll think, 'That was pretty good. I kind of like that.' … But it's not like you then have a feeling of, 'OK, now I'm going to go buy a random book of poetry.'"
So why do so many parents sign their kids up for dance classes, when dance is not something that most of those same parents enjoy watching in their leisure time?
"I think the experience of going to our kids' recitals is not often a good advertisement for being entertained (by a dance performance) in a theater and paying money," said Glass. "You sit there for 3 hours and wait for the part where your kid comes on. … It's a haul. And it kind of kills our appetite for dance for the next 12 months, until the next recital. So I think, accidentally, signing our kids up for dance may be what keeps some people from going to see more dance."
PREVIEW
"One Radio Host, Two Dancers"
Ira Glass, Monica Bill Barnes, Anna Bass
What: The Ann Arbor Summer Festival presents the combination of two art forms that, according to This American Life host Ira Glass, "have no business being together - dance and radio." Even so, the two work in tandem to tell stories in this one-of-a-kind show, which thrilled a Carnegie Hall audience in February.
Where: Power Center,
When: Saturday, July 6 at 8 p.m.
How much: Tickets cost $35, $55, and $65, available at the Michigan League Ticket Office, 911 N. University in Ann Arbor, or www.tickets.a2sf.org or 734-764-2538.
Yet when Glass saw Monica Bill Barnes and Co. perform a couple of years ago, their quirky sensibility and approach immediately reminded him "This American Life."
"The feelings they express are not just the big dancey feelings of joy and all of that," said Glass. "This dance company specializes in very small personal moments of awkwardness and humor. And so, … it features as complicated an array of feelings as the spoken part."
The dancers perform in sneakers for much of the show, since some of the floors they perform on aren't designed for dance.
Meanwhile, choosing stories for this type of collaborative show presented Glass with another sort of challenge. At first, he thought his team should skim the archives for stories about dance.
"At some point, though, we realized that people dance to things about love," said Glass. "In the same way that there are great love songs, there are great romantic dances about love. And that just opened up a whole world of stories."
In addition to love stories, the show will feature a segment about mortality, since Barnes choreographed the dance that humorist/essayist David Rakoff performed during the TAL show that was broadcast to movie theaters in May, 2012, just weeks before Rakoff's death from cancer.
And while most of the show will feature Glass telling stories while the dancers perform to music, Glass will also play the hoofer here and there.
"This is way out of my comfort zone, which is why I've wanted to do it," said Glass. "It's ridiculous. A man in his 50s, totally out of shape, should not be dancing on a stage."
Yet given that Glass recently co-hosted a doppelganger-themed TAL episode with "Saturday Night Live" and "Portlandia" star Fred Armisen, who impersonated Glass throughout, it does seem that the beloved radio host is consciously putting himself in potentially uncomfortable situations these days.
Check out Armisen impersonating Glass in this SNL clip that didn't make the final cut for the show's broadcast, so it's only available online:
"When you're imitated as a kid, you're being mocked, but instead, this was like watching a master craftsman do their job," said Glass of the experience. " … And then truthfully, it made me feel really small. Like, 'Oh, I guess it's so simple to be me.' All these things that I thought were produced as a force of personality, I realized, were just a series of pausing and intonation tricks that someone who knows how to imitate them can just do. I thought, 'I'm expressing my heart and soul,' and then to see how easily knocked off it was, you realize, 'Oh, my heart and soul are like little tin toys that anyone could make, with the will to make them.'"
"This American Life," of course, has always been about applying the tools of journalism to small-scale, human, sometimes funny, sometimes heartbreaking stories; and the show has shifted from memoir-ish stories to more often examining current events (the subprime mortgage crisis, patent trolls, etc.) through this lens in recent years. But are there stories that Glass feels shouldn't be told?
"About a month ago, somebody pitched a story about a pedophile, from the pedophile's point of view," said Glass. "It was about pedophiles who had never actually molested anybody and about their struggle. And it's just an enormously difficult story to know what to do with. Partly because of the ick factor, and then partly because, you just wonder, 'What are we trying to do? Are we trying to humanize the pedophiles? And why exactly are we doing that?' And then finally, just from a sheer storytelling point of view, in order for story to affect you, you have to relate to the character at center of it. … So that one's a puzzler, for sure."
Of course, combining dance with radio would seem incongruous, too. Glass initially voiced the idea of visiting a few NPR-loving towns with Monica Bill Barnes and Co., introducing them, and moderating a Q&A after their performance.
"But (the dancers) said, 'No, let's do a real show," said Glass.
And that real show is now on its way to Ann Arbor.
Jenn McKee is an entertainment reporter for AnnArbor.com. Reach her at jennmckee@annarbor.com or 734-623-2546, and follow her on Twitter @jennmckee.