Posted on
Thu, Mar 10, 2011 : 11:07 a.m.
Irish band Blackthorn returns to The Ark for benefit concert
By Jenn McKee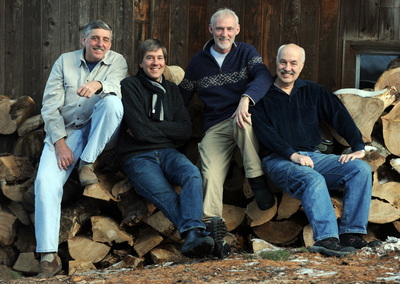 You can tell St. Patrick's Day is fast-approaching.
Why? Because these days, Ann Arbor's Fred Klein — a member of the popular, metro Detroit-based Irish band Blackthorn, playing a benefit concert at The Ark on March 13 — pretty much has to schedule a phone interview while driving to a gig.
"This is the most uninterrupted time block I have these days," said Klein, who also teaches third grade at Haisley Elementary (and, long ago, played in a local band called The Watusis).
According to Klein, the annual St. Patrick's Day push, in the life of an Irish band, begins in February. "People always want to book us as close to St. Patrick's Day as possible, but as things fill up, the gigs get spread out farther and farther out on either end," said Klein. " … But we live for this time of year."
Last year's Blackthorn benefit show at the Ark — benefitting the American Cancer Society Cancer Action Network — marked the band's first appearance at the venue.
"We were thrilled just to be asked in the first place," said Klein, who plays keyboards, tin whistle, accordian, and flute while also providing backup vocals. " … We didn't know how it would go. It was a Sunday night in February, the first night of Ann Arbor Schools' winter break, and we were like, 'Will anyone show up?' But the place was jammed, and that felt really good."
Last year's show, in fact, raised more than $8,000 for the Cancer Action Network, which is a nonprofit, non-partisan advocacy affiliate of ACS. Blackthorn's guitarist/banjo player, Gary McMullen, works for ACS in Lansing by day, and this connection planted the seed for the band's recent benefit concerts in Ann Arbor.
Rounding out the band is Belfast native (and Huntington Woods resident) Richard McMullan, who provides lead vocals and plays various instruments; and Ferndale's Dennis Green, who plays bass and sings back-up.
PREVIEW
Blackthorn: Songs and Stories from the Emerald Isle
Who: Popular, Detroit-based Irish band Blackthorn.
What: Rare Ann Arbor performance as a fundraiser for the American Cancer Society Cancer Action Network.
Where: The Ark, 316 S. Main St.
When: Sunday, March 13 at 7:30 p.m. (Doors open at 7 p.m.)
How much: $20 general admission, $50 for limited, special seating tickets. Tickets available in person at The Ark and the Michigan Union Ticket Office; by phone at 734-763-TKTS (8587); or online at www.ticketmaster.com.
McMullan founded Blackthorn more than 25 years ago, but the two musicians he played with at that time (at Detroit's Old Shillelagh) were more interested in folk music than Irish tunes. Klein joined the group shortly thereafter, and he and McMullan together pushed the group more solidly toward Irish songs of emigration, sea shanties, jigs and reels, and contemporary Irish songs.
In addition to Blackthorn's regular appearances at O'Mara's in Berkley, the band appears to have a busy, exciting year ahead, including: a 10 day tour of Ireland with fans; playing at the Milwaukee Irish Fest in August; and finishing up and releasing their seventh album.
According to Klein, 8 songs for the new record are done, including Stephen Foster's "Hard Times," featuring a brass quintet of Detroit area players. And Blackthorn "has toyed with the idea" of including a live tune from their upcoming show at The Ark on the new album.
"We'll see what we get out of it," said Klein. "There might be something that would make a great track for the CD."
Blackthorn began its life as a bar band, but as their fan base and sound have evolved — last year, Detroit Metro Times readers voted them best folk artist/band in Southeast Michigan — these musicians have come to savor their opportunities to play in concert settings.
"You have more of a true listening audience," said Klein. "When you play in a bar, people are there to talk and socialize, but in a concert, the audience's attention is exclusively on the music. It makes us more nervous and on edge, too, but in a good way. … We want everything to be just perfect for those shows."