Posted on
Sat, Apr 14, 2012 : 5:45 a.m.
'It just felt like time for a reinvention,' explains Bela Fleck of Flecktones reunion, Ann Arbor-bound tour
By Roger LeLievre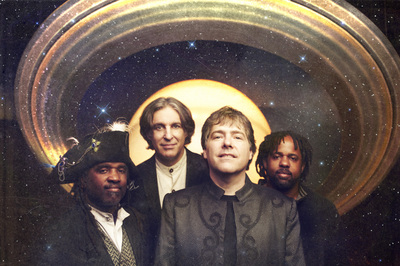 Banjo virtuoso
Bela Fleck
—coming to the Michigan Theater Thursday in a show sponsored by The Ark—pretty much created progressive bluegrass music during his days with the band New Grass Revival in the 1970s. After forming his own band, the Flecktones, in 1988, Fleck forged a genre-defying sound that was equal parts jazz, bluegrass and sheer sonic experimentalism.
Recently, Fleck reconvened the original lineup of Bela Fleck & The Flecktones. Their new album, "Rocket Science," marks the first recording by the original group in almost two decades, with pianist/harmonica player Howard Levy back in the fold alongside Fleck, bassist Victor Wooten and percussionist/ drumitarist Roy "Futureman" Wooten.
Since Fleck's publicist said the banjo ace preferred being questioned by e-mail, we sent ours in. Here are his responses:
First of all, welcome back to Ann Arbor.
Thank you, it is one of my favorite places to play, and the show with my African friends at Hill Auditorium (2010's The Africa Project), was one of the best shows of that tour.
What are you enjoying most about getting The Flecktones back together?
Just feeling that groove and spark once again is so special. It's better than it ever has been.
What made you decide it was time to reconvene, record and tour?
It was a year since Jeff Coffin had left to join Dave Mathews Band, and it just felt like time for a reinvention.
PREVIEW
Bela Fleck & the Flecktones
Who: Reunited multi-Grammy-winning progressive bluegrass group.
What: Songs from past albums, plus the new CD, "Rocket Science."
Where: Michigan Theater, 603 E. Liberty St.
When: 8 p.m. Thursday, April 19.
How much: $29.50-$65. Tickets available online from Ticketmaster.
What is it like to be playing once again with Howard Levy—how does he change/contribute to the group's sound?
He's a firecracker, and he lights the band up in a big way. His harmonica playing is the best you'll ever hear, and so is his piano playing, come to think of it. And Victor Wooten and Future Man continue to boggle the mind...
What do you think it is—that special something—that makes the group so successful and so beloved by fans?
It's serious music which doesn't take itself too seriously. And it's easy to see that we all love doing it.
You recently won another Grammy—14 now. Are these kinds of awards important to you?
It's 15 Grammies, and they are not important to me at all! OK, I admit to enjoying them, and they talk to me at night sometimes. No, not really, but it's pretty incredible to be recognized so many times by my peers.
I know your intent is not to have an oldies show, but do you touch on some of your older tunes on the current tour—perhaps bring some new interpretations to them?
Yes, we are playing half old material from the first three albums that Howard played on—and from our new album, which Howard played on. There seems to a theme there.
What does the future hold for Bela Fleck and the Flecktones? Will you all go your separate ways again, or continue to record and tour in this configuration?
We will be going our separate ways, most likely for several years. I do hope it isn't too long before everyone can do this again, because years do go by awfully fast these days.