Posted on
Sun, Dec 23, 2012 : 5:20 a.m.
'It's A Wonderful Life' at the Michigan Theater and Santa makes a stop at Conor O'Neill's
By Ann Dwyer
ART
It's not too late! Get "Art in the Barn" at The Yellow Barn. 10 a.m.-5 p.m. Did you forget someone? Or just get something for yourself because, dang it, you deserve it. This arts and crafts sale features over 25 artist under one roof. Find painting, photography, sculpture, textiles, glass, jewelry and more. Free admission. 416 W. Huron St., Ann Arbor.
TEENS
Watching movies and playing video games is an enriching cultural event when it's done at the library, especially when it involves Muppets. It's "Game + Watch: Muppet Mania" at the Ann Arbor District Library, Downtown Branch. 1-4 p.m. It'll be a perfect afternoon of playing video games while watching a movie. And there'll be popcorn! They'll have prizes for gameplay contests and the best theme-related costume. For youth grades three and up. Free. 343 S. Fifth Ave., Ann Arbor. 734-327-4200.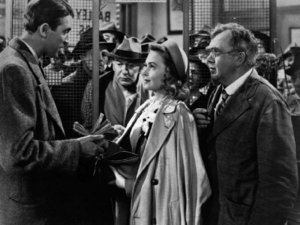 FILM
The free Holiday Classic Film Series continues at the Michigan Theater. 1:30 p.m. This week, see the perennial favorite "It's A Wonderful Life." One man's failed attempt at suicide makes us realize we should live long enough to once again hear Jimmy Stewart stutter, "Where's that money, you silly stupid old fool? Where's that money?" Free. 603 E. Liberty St., Ann Arbor. 734-668-8397.
HOLIDAYS
Even Santa needs a break. That's while he'll be at Conor O'Neill's. 4:30-6 p.m. Sing Christmas carols along with Santa! Children can get their photo taken with him for free and receive a small present. Ironically, this Santa will be probably be more sober than a mall Santa. No cover. 318 S. Main St., Ann Arbor. 734-665-2968.