Posted on
Sun, Dec 9, 2012 : 5:37 a.m.
It's Santa Central at Hudson Mills or get house envy at the Ypsi Home Tour
By Ann Dwyer
HOLIDAY
It will be "Santa Central" at Hudson Mills Metropark. 10 a.m., 12:30 p.m. and 2:30 p.m. Children can visit Santa Central to play reindeer games, make crafts, enjoy a hayride and snack, and share their wish list with Santa. Bring your camera or purchase a photo for $2, or bring a new toy for Toys for Tots and receive a free photo. Tickets are $6 per child. Children under the age of 1 are free. Includes all activities and hayride. $3 per adult, includes refreshments and hayride. Admission by advance ticket purchase only. Purchase in the park office. Santa Central is in the Activity Center at 8801 N. Territorial Road, Dexter.
CRAFTS
Make it a craft tour and head to the Corner Brewery the D.I.Ypsi (dip-see) Handmade Holiday Fair. Noon-6 p.m. They brought together a total of 36 vendors for a one-of-a-kind holiday shopping experience that will take care of everyone on your list. Bring your appetite, they'll have vegan food catered by the Lunch Room and, of course, beer. Twenty-five cent admission charge benefits FLY Children's Art Center. 720 Norris St., Ypsilanti. 734-480-2739.
HOMES
The Ypsilanti Meals on Wheels is hosting the 16th Annual Holiday Homes Tour. Noon-4:30 p.m. The tour will include four private homes as well as the Emmanuel Lutheran Church, built in 1859, and the 1860 Asa Dow House which is now the home of the Ypsilanti Historical Society. Tickets are available at Nelson Amos Studio. $20. For more information on the Tour, call 734-487-9669.
DANCE
The Youth Dance Theatre of Michigan will present "The Nutcracker" at the Chelsea High School Performing Arts Complex. 2 p.m. A sparkling Sugar Plum Tea, with delicious treats, and visits from costumed cast members, is offered at 12:30 p.m. YDT's young dancers captivate audiences with their artistry and energy. Elaborate sets and stunning costumes enhance this lively production. You haven't seen anything until you've seen a rat dance his little heart out. Adults: $15. Students/Seniors: $10. Tea tickets: $10. For tickets and information visit www.youthdancetheatre.org or call 734-475-3070.
FILM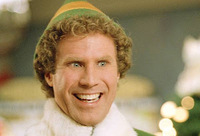 The Free Holiday Classic Film Series continues at the Michigan Theater. 1:30 p.m. This week, see the new holiday classic, "Elf." Will Ferrell is hilarious as a human raised an elf. Come watch and recall a time when Zoe Deschanel was more than quirk and eyeballs holding a ukelele. Free. 603 E. Liberty St., Ann Arbor. 734-668-8397.
ART
Find "Art in the Barn" at The Yellow Barn. 10 a.m.-5 p.m. This annual arts and crafts sale features over 25 artist under one roof. Find painting, photography, sculpture, textiles, glass, jewelry and more. Buy a gift that can be displayed proudly rather than shoved to the back of the closet with the other "As Seen On TV" junk. Free admission. 416 W. Huron St., Ann Arbor.