Posted on
Sun, Oct 28, 2012 : 12:45 p.m.
It's spookiest week of the year! And Arlo Guthrie is in town
By Ann Dwyer
THEATER
CANCELED See the "Jesus Christ Superstar UK Rock Spectacular" at Quality 16 and Rave movie theaters on Monday at 7:30 p.m. and Thursday at 7:30 p.m. This special in-theater event features a star-studded cast including actor/singer Ben Forster as Jesus, Tim Minchin as Judas Iscariot, and Melanie Chisholm (aka Mel C from the Spice Girls) as Mary Magdalene. $18. Tickets are available at participating theater box offices and online at www.FathomEvents.com. Q16: 3686 Jackson Road, Ann Arbor. 734-623-7469. Rave: 4100 Carpenter Road, Ypsilanti. 734-973-4823.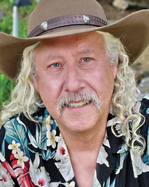 MUSIC
The legendary Arlo Guthrie will play The Ark on Monday and Tuesday at 8 p.m. The man who told us the story of Alice's Restaurant really needs no introduction. But even listeners who know Arlo Guthrie's songs by heart may not realize how he has continued to experiment and explore in recent years. Read a full preview here. $75/$57/$50. 316 S. Main St., Ann Arbor. 734-761-1800.
MUSIC
The Washtenaw Community Concert Band will play their "Fall Halloween Family Concert" at Towsley Auditorium on Tuesday. 7:30 p.m. Tricks and treats are in store as the 70-piece concert band opens its 35th season with a Fall Halloween family concert. Children of all ages are invited to join in the parade of costumes, with prizes for best costume. A reception with refreshments will follow the concert. Free.4800 E. Huron River Dr., Ann Arbor. 734-677-5033.
HALLOWEEN
Wednesday is the "Treat Parade" in downtown Ann Arbor. 11 a.m.-5 p.m. The Main Street Area Association cordially invites all costumed characters to the annual Treat Parade. Look for orange and black balloons on participating downtown businesses. The Ann Arbor District Library, 343 S. Fifth Street, will provide a special "spooky"story time to get the festivities started. Two story times, 9:30 a.m. and 10:30 a.m. Free.
MUSIC
Wednesday is the first day of Edgefest at the Kerrytown Concert House.7 p.m. and 9:30 p.m. Get a Double Dutch Treat of the Ab Baars-Ig Henneman Duo and the Jason Kao Hwang's Edge Quartet. Get a complete schedule and ticket prices at http://www.kerrytownconcerthouse.com/. 415 N. Fourth Ave., Ann Arbor. 734-769-2999.
HALLOWEEN
Have a spooky good time during "Halloween at ABC" at the Arbor Brewing Company on Wednesday. 7 p.m. Sip Night Stalker Pumpkin Cream Stout and other concoctions from the Specialty Cocktail Menu. A costume contest will be judged at 9 p.m. and 11 p.m. Get you fortune told and Monster Mash to live music. No cover. 114 E. Washington St., Ann Arbor. 734-213-1393.