Posted on
Sun, Nov 4, 2012 : 5:17 a.m.
It's symphony season; learn about 'The Washtenaw Way of Death'
By Ann Dwyer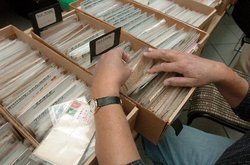 STAMPS
The Ann Arbor Stamp Show wraps up today at the Morris Lawrence Building on the Washtenaw Community College campus. 10 a.m.-4 p.m. Michigan's second largest annual stamp show features 28 dealers from nine states and Canada with US and foreign stamps, postal history, and supplies for collectors. The show also has 40 frames of exhibits, a youth area with free stamps for beginners, and food sales bythe Association for Community Advocacy. For information call 734-761-5859 or www.annarborstampclub.com Free admission and parking. 4800 E. Huron River Dr., Ann Arbor. 734-973-3300.
MUSIC
The Ann Arbor Concert Band's concert, "Old Frontiers," will open the season at Hill Auditorium. 2 p.m. The program includes dynamic and inspiring classic band repertoire such as "Fanfare from 'La Peri'" by Paul Dukas, "First Suite in E-Flat for Military Band" by Gustav Holst; "The Cowboys," by John Williams; "El Camino Real," by H. Owen Read; "October" by Eric Whitacre; "Marches, from 'West Point' Symphony," by Morton Gould and Percy Granger's "March of Democracy." $10 adults; $5 students/senior citizens; children 12 and under free. 825 N. University Ave., Ann Arbor. 734-763-3333.
MUSIC
Why not make it a symphony crawl? The Ann Arbor Symphony Orchestra will present "Carnival of the Animals" concert and "Instrument Petting Zoo" at the Michigan Theater. 4 p.m. The "Instrument Petting Zoo" begins at 2:30 p.m. Two favorite stories come alive with Saint-Saens' "Carnival of the Animals" accompanied by Ann Arbor Neutral Zone's Volume Youth Poets, and Josh Penman's Raccoon Tune, music set to Ann Arbor children's author Nancy Shaw's Michigan Book of the Year. Adults, $12; children, $8. 603 E. Liberty St., Ann Arbor. 734-668-8397.
EXHIBIT
Still in the Halloween state of mind? Then head to the Museum on Main Street for "Rest In Peace: The Washtenaw Way of Death." This exhibit will be up until Feb. 17. The Museum is open weekends, noon- 4 p.m. on Saturday and Sunday, or by calling ahead during the week at 734-662-9092. Come see what it was like to have a funeral with the coffin in the parlor of the family home in the 19th century and learn about the elaborate mourning customs of that era. There are artifacts, mourning dresses, photographs, a private mausoleum and a unique cemetery with a digital pathway filled with meaningful symbolism. Free, but donations are accepted. 500 N. Main St., Ann Arbor. 734-662-9092.