Posted on
Thu, Sep 13, 2012 : 11:12 a.m.
It's the start of the symphony season and Second City is in town
By Ann Dwyer
BEER
Enjoy "Oktoberfest 2012" at the Corner Brewery on Friday. 5 p.m.-1 a.m. Join in for a night of eating, drinking and dancing Bavarian-style. Happy hour is from 4-7 p.m. They'll have music with the German band, Rhinelanders, grill up a boat-load of brats and other special treats all under the big tent in the beer garden. Children welcome with parents until 9 p.m. Rain or shine. No cover. 720 Norris St., Ypsilanti. 734-480-2739.
COMEDY
Be a part of the "Laughing Matters" tour with The Second City at The Ark on Friday and Saturday. 8 p.m. This year's tour has never been presented before at The Ark; it showcases the comedy world's next generation in an evening of hilarious sketches and Second City's trademark improvisation. $25. $20 with student ID in person at the Michigan Union Ticket Office or The Ark box office. 316 S. Main St., Ann Arbor. 734-761-1800. Read about it here.
PLANES
The Flying Pilgrims Radio Control Club will celebrate with a "29th Anniversary" event at Flying Pilgrims Trail on Saturday and Sunday. 10 a.m. to 5 p.m. Pilots will break at noon so that the audience can view the planes up close. The airplanes to be displayed and flown are referred to as "Giant Scale." The model must be at least one-fourth the size of the real aircraft. There are both turbine jet and propeller driven models. $5 parking donation. The northwest corner of Geddes and Ridge Roads. 734-207-3626.
FOOD
It's time for the "Annual Mark's Carts Cook-Off" at Mark's Carts on Saturday. 11 a.m.-1 p.m. Each of the eight diverse food carts at Mark's Carts will use the same sized piece of Le Creuset cookware to prepare a dish in keeping with their cart's theme. The public will be given free samples of each dish and asked to vote for the winner. In the Food Cart Courtyard at 211 W. Washington St., Ann Arbor. 734-213-7482.
BOOKS
Kids! Meet Corduroy the bear at Nicola's Books on Saturday. Story time is at 11 a.m. Meet Corduroy at 11:30 a.m. He's been a classic children's book character for more than 40 years and now you can meet him in person. Free. Nicola's is in the Westgate Shopping Center at 2513 Jackson Road, Ann Arbor. 734-662-0600.
FUNDRAISER
Raise your paddle or shout out your bid on Saturday and help raise the funds to keep the Performance Network running. 7 p.m. Join your favorite artists as they perform the roles they have always dreamed of doing, while you personally help their dreams come true by donating the amount of money for PNT's season that ticket sales don't cover. The lights won't come up unless you bid! $50/$75. 120 E. Huron St., Ann Arbor.
MUSIC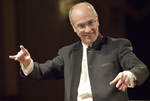 courtesy of the Ann Arbor Symphony Orchestra
Ann Arbor Symphony Orchestra's opening performance will be "Beethoven's Ode to Joy" A Red Carpet Affair" on Saturday at Hill Auditorium. 8 p.m. An all-Beethoven concert will join the dynamic Ann Arbor Symphony Orchestra led by Arie Lipsky, four outstanding vocal soloists, and four of Southeastern Michigan's top choruses to create a joyous beginning to the music season. To order tickets call 734-994-4801, email
tickets@a2so.com
, or purchase online at
www.a2so.com
. Single tickets range from $10 to $58. Students receive 50 percent off ticket price in Sections A-D. 825 N. University Ave., Ann Arbor. 734-763-3333.