Posted on
Thu, Mar 18, 2010 : 1:15 a.m.
Art, music an interesting mix at Jazz at Lincoln Center Orchestra show
By Roger LeLievre
Trumpeter Wynton Marsalis is the name that's most readily associated with the Jazz at Lincoln Center Orchestra. But it was reedman Ted Nash who really took center stage at the ensemble's Hill Auditorium show Wednesday night.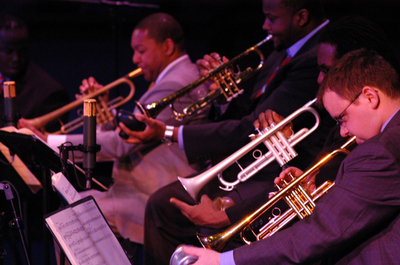 Image courtesy University Musical Society
Part of the 1st half, and the entirety of the program's 2nd half, consisted of Nash's new jazz suite, "Portrait in Seven Shades," 7 movements inspired by masters of modern art — Chagall, Dalí, Matisse, Monet, Picasso, Pollock and Van Gogh — and their best-known paintings.
The concert began with 3 selections by Count Basie, "Sleepwalker's Serenade," "Midnight Blue" and "Seventh Avenue Express," with Marsalis taking a back seat — literally — to allow the solo talents of his superb ensemble to shine. Marsalis has always been one to share the spotlight, and Wednesday's show was no exception.
I loved all the different moods and feelings "Portrait in Seven Shades" evoked.
"Dalí," with its unusual 13/8 time signature, left me a bit off balance, which I'm sure was the intention. Nash — who introduced each movement by talking a bit about the art and artist that inspired it — teamed up with trumpeter Marcus Printup for some surrealistic note-bending, not unlike, Nash said, Dalí's famous melting clocks. At one point, the band kept time with handclaps, serving to emphasize the odd tempo.
Listen to Jazz at Lincoln Center Orchestra "Dalí":
"Picasso" embraced the painter's Spanish heritage, with a flamenco sound, while "Chagall" had fun elements of klezmer running throughout.
For "Pollock," Nash explained, he used the piano as a canvas, splattering notes, which he later organized. The 1st part felt appropriately random, with the 2nd part offering more of a traditional swing feel, in keeping with the artist's musical interests later in life.
Nash said he wrote lyrics for "Van Gogh" that told of the painter's troubled life "as if he were talking to his friend (Post-Impressionist painter Paul) Gauguin." Vincent Gardner sang them, his beautiful voice making the sadness of the words, which touched on the search for acceptance the artist never found in his lifetime, even more melancholy.
The show ended with an amazing encore, "Moscow Blues," with the group stripped down to a tight 9 players.
With such uniformly superb playing, it's hard to single out any 1 performer. But I was especially impressed with pianist Dan Nimmer, saxman Joe Temperley and Marcus Printup on trumpet. Former member Wes Anderson made a surprise guest appearance, playing his alto sax on "Matisse."
The performance marked the Jazz at Lincoln Center Orchestra's 12th University Musical Society-sponsored concert and Marsalis' 13th UMS appearance. Judging from the audience response, I'd say a return engagement in 2011 is pretty much a sure bet.
Roger LeLievre is a free-lance writer who covers music for AnnArbor.com.