Posted on
Tue, Jan 3, 2012 : 5:39 a.m.
James L. Crawford Elks Lodge serving up soul food with a side of live jazz
By Jennifer Eberbach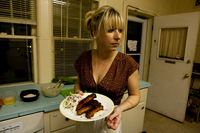 The James L. Crawford Elks Lodge has been holding social events in its basement recreation room that non-members can attend for years now. The historic lodge on Sunset Road has
become a unique place to dance to DJs and socialize
with friends and members of the Improved Benevolent Protective Order of the Elks of the World no. 322 and its sister organization, the Daughters of the Elks—Daisy Chain Temple no. 212.
In the spirit of involving more of the community, the lodge is now hosting the Elks Neighborhood Kitchen Soul Food and Live Jazz, every Thursday, Friday and Saturday. The heaping plate of soul food prepared by professional cooks is delicious. And a lineup of talented local jazz musicians who really know how to jam completes the laid-back, social atmosphere.
"The kitchen has been an asset to us for years and years," explains Exalted Ruler Michael Henry. For example, members frequently gathered to eat meals together on Saturdays prior to the changes. However, "the difference now is that the Elks Neighborhood Kitchen has its own corporate structure. It pays sales tax, follows health codes and cleanliness standards, and it's licensed by the state. Now, the kitchen is open to more of the community with regular hours," Henry explains.
The Elks Neighborhood Kitchen is open Thursday and Friday from 5-10 p.m., and Saturday 4-10 p.m. You can choose between main dishes such as barbecue ribs, fried catfish, and fried chicken, and feast on things like red beans and rice, hush puppies, or other soul food side dishes.
A slew of local jazz musicians have been performing at the lodge every week, since the events started in October. Right now, the regular lineup of jazz musicians includes Vincent Chandler and Russ Tessier on Thursdays; Tim Haldeman and various others on Fridays; and beginning Jan. 14, Macpodz members Brennan Andes, Jesse Clayton, and Ross Huff will kick off their regular Saturday evening gig. And a number of others have played at the events, including Big John Davis and Josef Deas, as well as others who have sat in for a set.
Henry thinks the regular jazz nights fill a niche for musicians and music fans in town. "Ann Arbor is totally in need of more regular live music. There are a lot of what you could call closeted jazz musicians in town who don't have a strong scene of people to collaborate with. They frequently end up playing something different than jazz to get gigs. So far, the artists have been great about working together and with us to create a scene for jazz and an environment where there can be more collaboration between the artists," he says.
Chef Kelli Harden, who brings her experience working at the Gandy Dancer, Eve the Restaurant, and Frita Batidos with her, is excited for the opportunity to run her own kitchen. She cooks with Kevin Cook, who worked with her at the Gandy Dancer and Frita Batidos, and they also cater together.
"Back in April, I started cooking with two members of the Elks," James Wesley and Samuel Perry, the chair and a member of the lodge's Kitchen Committee respectively, "who taught me a lot about cooking soul food," she says. She took over the kitchen in June.
Planning the menu, she knew some kinds of food were requisite. "There were definitely things we knew we had to have like catfish and ribs," Harden says. "But beyond that, they are letting me really do my own thing. They were like, here, the kitchen is for you. It's an opportunity to do things I've never gotten a chance to do."
"When I was a kid, I would always hang out around the kitchen with my black friends' moms who cooked soul food. I always wanted to watch them cook and find out how they made it taste so good. Soul food has always been one of my favorite things, but I never had an opportunity to cook it like this before," Harden says.
The soul food dishes on the menu, as well as the atmosphere of the events, are "casual, comforting, and fun," Harden thinks.
Henry adds that the cooks have "developed recipes that are healthier for people," and the plan for the future is to present workshops on cooking and nutrition geared at increasing public health and encouraging healthy lifestyles.
Henry is pleased with how the soul food and jazz evenings are going so far, and thinks that they "fit right into the philosophy we have as an organization. There are plenty of programs and initiatives that we do as members, but it's also important that the rest of the community participate and join in. We do a lot of educational outreach and we planted a community garden, for example, which are things we want to get the community engaged in," he explains.
Getting people together at the lodge for music, food, and drinks is an effective way to get people interested in what the organization does and what it is all about, from Henry's perspective. "So far, I'm happy to see a lot of new faces," he says.
The lodge is located at 220 Sunset Road in Ann Arbor. Phone: 734-761-7172. You can learn more about the James L. Crawford Elks Lodge and the types of community events they do in previous coverage on Annarbor.com or check their Facebook page for more events.