Posted on
Fri, Oct 28, 2011 : 11:32 p.m.
Jane Fonda and Richard Perry talk about their careers (and football) at U-M
By Jenn McKee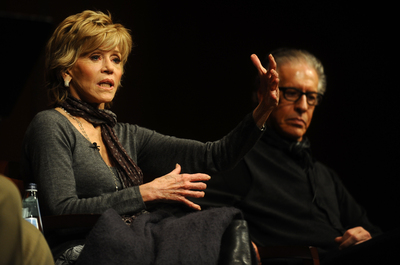 Photo by Melanie Maxwell | AnnArbor.com
An estimated 400-500 people showed up at the University of Michigan's Rackham Auditorium late Friday afternoon to hear legendary music producer (and U-M grad) Richard Perry and partner Jane Fonda speak.
One unexpected topic was football—Perry had a few things to say about a certain 4th-and-inches play call during the Michigan-Michigan State game. "I'll never forget that one," said Perry. "Out of all things, for Denard to drop back … "
Mostly, though, Perry focused on his early interest in music (including his passion for musical theater performance—he worked with Tony Award winning director Jack O'Brien in a MUSKET production of "Kismet" as a U-M freshman); his time at U-M (within 2 weeks of arriving on campus, he watched Kennedy deliver his Peace Corps speech on the steps of the Michigan Union); and his experiences with several seminal recording artists during the past 50 years.
Fonda, meanwhile, primarily focused on her career as an actress, naming her favorite roles (Bree Daniels in "Klute," which earned her an Oscar, and Gertie Nevels in "The Dollmaker," which won her an Emmy Award) while also offering insights into the craft of acting.
Here are a few takeaway quotes, and video clips, from the talk.
Perry, on his introduction to rock and roll: "I was fortunate enough to be born right in the heartland, to witness the birth of rock and roll. I went to the first rock and roll shows put on by the legendary disk jockey Alan Freed. … He invented the term 'rock and roll.' It was at the Brooklyn Paramount Theater. I couldn't get any of my friends to go with me, because they were too afraid to get on the subway and ride into downtown Brooklyn. This was pretty daunting. But I had to go. And I wasn't going to let anything stop me from going, even though I was only 12. And as soon as I walked into the theater, I saw Chuck Berry duck-walking across the stage singing, 'Roll Over Beethoven,' and I thought I'd died and gone to heaven."
Fonda, on being in Lee Strasberg's class with Marilyn Monroe, at the time that she was making "Some Like It Hot": "I did my first exercise, and I would sit behind Marilyn, who was also in class. … She was so scared, she never did anything on the stage. And I was real scared, too. And I did an exercise, and Lee said I had talent. I figured, he wasn't my father, and no one was paying him. I remember walking out of the door of that studio on Broadway, and suddenly, I walked out, and I owned New York. It's like, when you suddenly are given permission to be something that you didn't even know you wanted to do, everything changes. And my whole life changed."
Perry, on getting a well-rounded music education at U-M: "I had to spend a year studying the violin, and a year conducting, which I wouldn't give up for anything, because sometimes, I can tell a string section how I want them to bow a specific passage, in much the same I would tell an artist how to sing, how to interpret a certain phrase, even if it's Barbara Streisand. And they respect you when they can tell you know what you're talking about. … The more you can consume about how music got to where it is now, the better off you'll be, and the more skills you can develop as you go."
Here Fonda talking about the process of becoming a character:
Perry, on being an effective music producer: "I would find songs that would give (artists) the opportunity to accentuate their strengths and to minimize their weaknesses. I wouldn't give Barbara Streisand a hip-hop song. But I would give her something that was uncharacteristically uptempo that I knew she could sing … as I did with a song … called 'Stony End,' written by Laura Nyro."
Check out how Perry countered Babs' initial resistance:
Fonda, on what she considers her biggest failure: My biggest failure was that I was not a very good parent at the beginning of my parenthood years. And you teach what you need to learn. I have subsequently studied parenting so that I would know what it's supposed to be, and I'm writing about it. And if there's something I could do differently, it would be that. I remember I had just had my little girl, and about a year later, I left my husband, left my life and friends, … to join the anti-war movement. And occasionally, I'd be on the barricades, or in a jail or someplace, and I'd see a woman with a little baby in her arms, and she'd say, 'Where's your baby?' And I'd say, 'She's at home with a nurse.' And I would feel so bad that I didn't have the guts to bring her with me. … But one of the things I've learned in my many years is that it's your failures that teach you the most—never, ever your successes—if you allow them to.
In this clip, Perry talks about Amy Winehouse:
Finally, Perry and Fonda pondered what they might do if forced to choose an alternate career.
Jenn McKee is the entertainment digital journalist for AnnArbor.com. Reach her at jennmckee@annarbor.com or 734-623-2546, and follow her on Twitter @jennmckee.