Posted on
Sun, Nov 13, 2011 : 7:44 a.m.
Jason Berry is the Blind Pig's visionary talent buyer
By Martin Bandyke
Nirvana, Joan Baez, Bo Diddley, R.E.M., Koko Taylor and Pearl Jam are just a few of the legendary names who have performed over the years at the Blind Pig, the club at 208 S. First Street with a rich musical history that first opened in 1971.
Of all the shows I've ever caught there, none was more memorable than Television's blistering performance in the early 1990s. Televison was a New York City-based band at the forefront of the mid-70s punk movement along with the Ramones, Patti Smith, Talking Heads and others, led by guitarists Tom Verlaine and Richard Lloyd. The quartet rarely toured, so to see them in peak form and in the Pig's intimate setting was nothing short of breathtaking.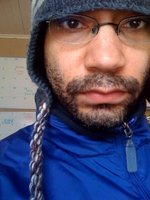 The Blind Pig's talent buyer for the last 14 years has been
Jason Berry
, whose expertise has been instrumental to the venue's health and well-being. The Syracuse, New York native recently spoke to me about his very cool gig booking musicians at the Blind Pig.
Q: Who are some of the acts you've been most proud of bringing to the club?
Jason Berry: Locally, it's been cool to be a part of the Ghostly (Records) ascension. Ever since Sam (Samuel Valenti IV) started that thing, I was happy to make the Pig available whenever it made sense for them. Same goes for One.Be.Low, who for the longest time was the spiritual leader of our local hip-hop scene; and same goes for (Ann Arbor fusion band) Funktelligence. The local stuff is the most rewarding thing, but it's the hardest. The national shows are kind of automatic at this point; it's a matter of maintaining what the Pig already is. The local music is the real challenge, and you get the most rewards out of making something happen with the local scene.
Q: How does the Blind Pig set itself apart from other clubs in Southeast Michigan?
Berry: We're the proving ground for the college market. That's why we get so many acts that are about to get huge. Our natural advantage over the competition in Detroit is that we're focused on the college market. Even though rooms like the Crofoot or the Magic Stick or St. Andrew's are bigger than us, we can take more risks and stay competitive that way. When an act comes out and they're hot or supposed to be hot, the agents look at us and think, 'If they can go in there and blow the roof off the Pig, then that means it's going to work nationally.' That's why we get so many acts who are about to get huge. It boils down to, OK, is it real or not? We always get these about-to-be enormous acts.
Q: Has the recession taken a bite out of your audience?
Berry: It's been challenging, although after 9/11 it was worse. People were just afraid to go out. At this small club level, people got spooked after that and business got dropped. It didn't help at the time that I was booking the Pig from New York City. I spent a year out there after (co-owner) Roy (Goffett) passed; I kind of freaked out. Betty and Roy bought the Pig (in 1981), and he was the personality of the Pig. Me and him were really tight, and I loved that man. It was very traumatic; I kind of flipped out and went to New York to do whatever. I told Betty, 'Surely a thousand people will approach you about booking the Pig. I'll just do it until someone steps up." And no one really did. People might think it's cool, but once they feel a little of that pressure and see some of the pressures you're under, it's not as beautiful as it once was. But it's fun, though; it's an honor.
Q: As challenging as your job must be, it's got to be satisfying bringing artists to such a music-loving city as Ann Arbor.
Berry: People don't know how good they got it. You got the Pig here, but you've also got The Ark. We're just the dirty stepchild of the Ark (laughs). We're one of the best in the country, but they're in the top three in the country. We're in awe of the Ark always. There are acts who can do both us and The Ark, but communication is so high between us that it's almost telepathic.
. . . For me I'm trying to bring what the U of M student body wants to see; for Anya (Siglin of the Ark) she's trying to bring what the Ann Arbor community at large wants to see; and Lee (Berry of the Michigan Theater) is just holding it down. Trey (Anastasio) from Phish hand-picked the Michigan to play; so did (Beach Boy) Brian Wilson.
You've got these three diamonds that are being run really well. And the corporate interests of LiveNation and AEG, they're just kept at bay. That's what will ruin your scene, is corporate guys coming in and taking over and not having the community's best interests at heart. That happens all the time. But Ann Arbor just keeps on trucking. I'm very proud to be a part of that.
For more information on the Blind Pig, go to www.blindpigmusic.com or call 734-996-8555.
(This post was revised to correct a typo and to remove a reference that included masked profanity.)
Martin Bandyke is the 6-10am morning drive host at Ann Arbor's 107one, WQKL-FM. Follow up on Twitter and at: www.martinbandyke.com.