Posted on
Fri, Jan 25, 2013 : 11:03 a.m.
Jazz at Lincoln Center Orchestra with Wynton Marsalis returning to celebrate 25 years
By Kevin Ransom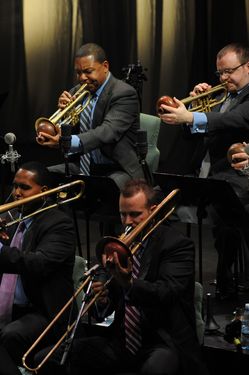 The
Jazz at Lincoln Center Orchestra
with
Wynton Marsalis
has long been one of the most acclaimed, accomplished, exciting and revered keepers of the jazz flame—and among the most respected when it comes to its sense of jazz history.
And this year, the Orchestra is making some history of its own: This year marks the orchestra's 25th anniversary, and that anniversary is the theme of the JALC tour that comes to Hill Auditorium on Thursday for a show presented by the University Musical Society.
That means the orchestra will likely be drawing on an even deeper repertoire than usual. For those 25 years, it has performed individual concerts devoted specifically to the work of most if not all of the greatest jazz giants—everyone from Duke Ellington, Count Basie and Charlie Parker to Miles Davis, John Coltrane, Thelonious Monk and Wayne Shorter.
It has also premiered works commissioned from a who's who of composers, including Benny Carter, Joe Henderson, Shorter, Joe Lovano, Freddie Hubbard, Charles McPherson, Marcus Roberts, Geri Allen and dozens of others. In addition, the orchestra also frequently performs the compositions of Marsalis and other JALC composers like Wycliffe Gordon and Ted Nash. And it that isn't enough, they've performed concerts devoted to the works of artists on the legendary Blue Note jazz label.
Thursday's program will be announced from the stage that night, "and we'll be able to draw from any of those sources," says JALC pianist Dan Nimmer. "We also recently did some programs devoted to Gerry Mulligan and John Lewis, so we could be doing some of those pieces as well."
A big part of the JALC mission is education: The orchestra has also done education / performance residencies all over the world—France, Italy, Prague, Czech Republic, England, Switzerland, Germany, Brazil and Japan, among others. And it often does education programs at high schools and universities.
Over the last few years, the JALC has also collaborated with many of the world's leading symphony orchestras, like the New York Philharmonic, the Russian National Orchestra, the Berlin Philharmonic Orchestra, the Boston, Chicago and London Symphony Orchestras and the Orchestra Esperimentale in Sao Paolo, Brazil and others.
And in 2006, JALC first collaborated with Ghanaian drum collective Odadaa!, led by Yacub Addy, to perform "Congo Square," a composition by Marsalis and Addy that was dedicated to New Orleans, Marsalis' hometown. JALC has continued to perform that work since then.
PREVIEW
Jazz at Lincoln Center Orchestra
Who: Revered big-band jazz ensemble under the direction of the acclaimed, award-winning trumpet player / composer / bandleader Wynton Marsalis.
What: This year is the JALC Orchestra's 25th anniversary, so the program will be drawing from various elements of their extensive repertoire.
Where: Hill Auditorium, 825 N. University Ave.
When: 7:30 p.m. Thursday, Jan. 31.
How much: $10-$54. Tickets can be purchased by calling 734-764-2538, in person at Michigan League Ticket Office, 911 N. University Ave. or online from ums.org.
"I think it's really important to spread this music as widely as we can," says Nimmer of the JALC mission. "Jazz is America's one true artistic export, and is a very crucial aspect of American history. In my opinion, there aren't really a lot of people spreading the true word of this music, so it's important to keep this tradition alive and bring this music to people, especially young people."
When asked to elaborate on his "true word" assessment, Nimmer adds: "There's a lot of stuff out there being presented as jazz that is not real jazz, like jazz-pop fusion, and a hybrid of jazz and hop-hop, etc.
"And as a musician, it's very satisfying to be part of this mission, and performing with an ensemble of this caliber," adds Nimmer. Indeed, the JALC Orchestra has often been lauded as the greatest big-band jazz ensemble in America.
"I spent my whole life learning and practicing to be able to do this, so to be part of this ensemble is a dream come true," says Nimmer, a Milwaukee native who has been with JALC since 2005.
JALC has released 14 albums. The most recent, "Vitoria Suite," from 2010, was a two-disc synergy of jazz, blues, Spanish flemenco music and northern Spanish Basque folk music. The piece was composed by Marsalis, with some of the movements dating back several years.
JALC spends about one-third of its time touring, "generally playing six nights in a row, and then taking a day off, on average, during the season (which runs from autumn through the spring)," explains Nimmer. "And then, in New York, we play one weekend a month. And then everyone in the ensemble is involved with other bands and other projects."
Nimmer says it is thrilling to be able to interact musically with such all-world players, and to work with a director as accomplished and artistically ambitious as Marsalis is.
"To be in this band, you have to be really versatile," he says. "In the eight years since I joined, I've grown a lot, as far as my musical range. My biggest influences were '50s and '60s-era pianists like Oscar Peterson and Edwin Kelly, but since joining this group, I've really expanded my range of influences.
"It's pretty rare to be in a band where everyone can play amazing solos," says Nimmer of the 15-piece JALC Orchestra. "None of these guys are just section players -- they're all great soloists in their own right, and many of them lead other bands and have made solo recordings.
"And working with Wynton is a real joy. As a bandleader, he wants everyone in the orchestra to shine. It's not about him. He's very giving, in terms of working up arrangements that spotlights all of the players. He always says the hardest part of his job is making sure that everyone gets a solo."
Kevin Ransom is a freelance writer who covers music for AnnArbor.com. He can be reached at KevinRansom10@aol.com.