Posted on
Tue, Oct 5, 2010 : 11:58 a.m.
Jazz pianist Steve Richko dies at age 33; tribute concert planned
By AnnArbor.com Staff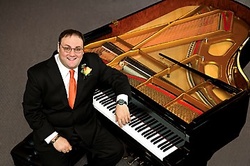 Steve Richko, a well-known, respected jazz pianist in Ann Arbor and the greater Detroit area, died suddenly on Sunday. He was 33.
"Steve was one of the most gifted pianists I've ever worked with," said friend and colleague Paul Keller in a prepared statement. "He was like a brother to me."
A previously planned concert this Friday at Kerrytown Concert House, in which Richko was slated to play as part of Keller's trio, will be reconfigured as a tribute to the late pianist.
Richko grew up in the Cleveland area in a family of musicians dating back several generations, and he pursued jazz from an early age.
A statement from Kerrytown Concert House reads, "Considered one of the finest jazz pianists on the jazz scene these days, Richko was known for his virtuosic piano technique and his keen understanding of ensemble playing and trio arranging. He had a passion for the music of Oscar Peterson, and spent much of his career studying and performing his music, culminating in the release of 'To Oscar, With Love: A Tribute To Oscar Peterson' on PKO Records."
"Steve was such a kind, beautiful soul," Keller said. "He had a big heart that matched his massive talent."
Richko, who lived in Dearborn, is survived by his wife Elizabeth and three children. Burial is expected to be in Ohio, but a viewing and visitation are scheduled at the Solosy Funeral Home, 3206 Fort St. in Lincoln Park, 5-9 p.m. this Saturday and Sunday.
Richko was scheduled to perform with the Paul Keller Trio in a concert honoring Nat King Cole this Friday at KCH. Now, Keller, along with guitarist Ralph Tope and pianist Glenn Tucker, will continue with the concert as a celebration of Richko's life and work. The concert will take place at 8 p.m. Friday at KCH, 415 N. Fourth Ave. Tickets are $30 for café tables up front, $20 for rows 3-5, and $15 for general admission. To reserve tickets, call 734-769-2999 or visit www.kerrytownconcerthouse.com.
Fundraising concerts for Richko's young sons are in the planning stages, but details are not yet set.
Steve Richko plays a tribute to Oscar Peterson: