Posted on
Thu, Mar 31, 2011 : 5:45 a.m.
Jazzy Veggie keeps vegan food interesting even for meat eaters
By Julie Halpert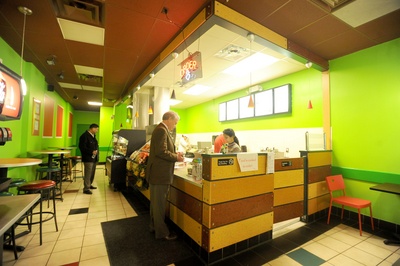 Angela J. Cesere | AnnArbor.com
For the past five years, Ananth Pullela dreamed of opening an all-vegan restaurant where anyone, including vegans, could order anything off the menu, but that appealed to both omnivores and vegetarians alike.
What's more, he wanted to convince people that "vegan doesn't have to be boring." Based on two recent visits to his new restaurant, Jazzy Veggie, I think he has achieved his goal.

Pullela opened Jazzy Veggie on Nov. 15 in a former Quizno's. It's all plant-based cuisine; vegan fare includes no meat, fish, chicken, eggs or dairy products.

The restaurant provides a variety of sandwiches as well as soups, salads, pizza and specials of the day. The place is so bright it's blinding, with walls painted in two shades of neon green, along with big red squares. It's cheery, yet stark and casual. You order from the counter, and then the server brings you your food.
On the rainy March night of our first visit, I had to resist begging the owner to dial up the thermostat, as it was freezing. We kept our winter coats on the entire time. This wasn't an issue on our second visit, when the temperature outdoors was slightly warmer.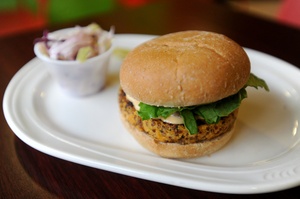 Angela J. Cesere | AnnArbor.com
Among the standout dishes we tried were two appetizers. The potstickers were wonderful, served in a slightly spicy Asian sauce. They weren't greasy like some fried concoctions, and without meat filling, they were light and delightful. I also enjoyed the "crab" cakes, which could easily pass for the seafood original, and were even better when dipped in the aioli sauce.

I opted for the sweet potato quinoa sandwich, a Jazzy Veggie signature dish. The thick patty came on a fresh, whole wheat roll and the roasted sweet potatoes provided a sweet taste to the garden burger. But it was on the bland side, and I couldn't detect much of the garlic and red curry mayonnaise that was spread on the sandwich.
I preferred the hearty Wolverine that my husband ordered, which resembled a slightly spicy black bean burger.
The best dish on our first visit was the enchilada, a nice, light version of what's traditionally a heavier Mexican dish. It was hearty, with a crispy tortilla crust and cheese made from plant-based ingredients. I wasn't tempted to dive into the rice that came with it, which tasted dry.
RESTAURANT REVIEW
Jazzy Veggie
108 S. Main St., Ann Arbor.
734-222-0203
Hours: Monday-Friday, 11 a.m.-8 p.m.; Saturday, 11 a.m.-3 p.m. Beginning April 4, the hours will change to 11 a.m.-9 p.m. Monday-Saturday.
Plastic: Visa, American Express, Discover, Mastercard.
Liquor: No.
Prices: Inexpensive. Pizza and sandwiches are in the $7-$8 range.
Value: Very good.
Noise level: Medium.
Wheelchair access: Yes.
Another tasty choice was the spinach and artichoke pizza. The crust was thin and crispy, resembling a pita. There were delicious big pieces of fresh artichokes and spinach on top, held together by a tangy basil Alfredo sauce.
I wanted to sample the couscous orange salad, but they had run out, and offered to substitute the blackened "chick'n" and corn salad. The very spicy blackened veggie protein strips had the look and consistency of chicken and they made this salad — full of fresh greens, corn, tomatoes and onions — quite substantial.
Among the misses: burnt sweet potato fries and plantain chips that could have come from any grocery store.
My daughter described the chocolate mousse as tasting like "sour chocolate pudding," and I agreed. It lacked that smooth, custard consistency and crunchy crust.
The moist vegan cupcake was better. I enjoyed running my fingers across the top to sample the creamy frosting.
Service on our first visit was prompt, but the staff was sorely tested the second time around, when a group of 20 people gathering to discuss vegetarianism arrived. We got stuck behind them and waited close to an hour for our food.
But those kinds of situations are likely rare. Generally, I had a very positive experience at Jazzy Veggie. Its inventive seasonings and interesting variety of offerings definitely satisfied the palate of this non-vegan.
Julie Halpert reviews restaurants for AnnArbor.com.
Angela J. Cesere | AnnArbor.com