Posted on
Sat, Jan 30, 2010 : 8 a.m.
J.D. Salinger dies, but <em>The Catcher in the Rye</em> Lives On
By Trisha Paul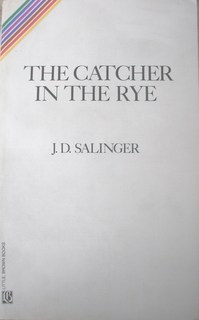 After I found out from numerous Facebook statuses that
J.D. Salinger
had died, I started re-reading
The Catcher in the Rye
. Memories of
The Catcher in the Rye
came flooding back to me: the plain white cover of the book, living proof that one must not judge a book by its cover: the "phony" nature of the world that Holden had opened my eyes to; the ducks in the pond in Central Park; the struggle of adolescence and the dilemma to be mature yet remain innocent.

The Catcher in the Rye cast the same spell on me as it does on many high school readers; it took me a while to figure it out. It was definitely unlike any other book that I had read, and I couldn't decide whether I liked it or not. I started out hating Holden and resisting Salinger's unique writing style, but after I got past that, I was able to see how much more lies within his story and his character.
Reading The Catcher in the Rye in English 10 with Mr. Anthony Pariano was probably the highlight of my English class sophomore year. I really only understood the book after we did a project to experiment with Holden Caulfield's writing style. Not only did we have to write as if we were Holden himself, but we had to write about what would happen if Holden had met us and what he would have thought of us based on that encounter. And anyone who has ever read The Catcher in the Rye would know that that's a task that forces you to really analyze yourself and who you are. We were forced to see our "phony" flaws from the eyes of Holden, to highlight our hypocrisies, to admit our faults.
That's how I came to really appreciate The Catcher in the Rye as more than a book about a hypocritical boy who doesn't seem to care about anything. Because when you look at the world from his point of view, it is overwhelmingly tainted. But at the same time, there is a beauty to it, a beauty that is forever preserved by the innocent even if it may diminish through aging. It's so much harder to be critical of who you are, and to be as blatantly honest about the world as Salinger is takes a lot of courage.
"It's an extremely good book that touches on a lower side of life that we all experience at some point or another. Holden provides us with an insight into life that is very depressing but also very honest," said Alex Ratcliffe, a senior at Huron. "It's one of those books that really makes you reflect because Holden is one of those people who is just wasting his life away and living day by day. He's not really living for a purpose. The little things that actually matter to him like going to the museum and seeing his sister Phoebe really make you think about time and the importance of the little things in life."
"The Catcher in the Rye was so different from all the other books we read in high school. Writing wise, its unique style compared to the other classic novels showed me that a great novel doesn't follow strict writing guidelines," explained Daniel Yang, a senior at Huron. "I didn't really understand where it was going, but I definitely could see some connection between the scenes in the book. I just could never piece them together and get into it as much as other books."
As with any book, not all high school readers liked it. Some found the language of the book hard to get used to, and the anecdotal nature could seem excessive. Others felt the plot was virtually nonexistent.
"I just did not like that book. I felt sorry for the main character, but he was frustrating and he was just doing stupid things," said Kristen Giuffrida, a senior at Huron. "I didn't like all those tangents because I think they distracted from the main point of the story."
"I think Salinger's reputation as being sort of eccentric and isolated really gets some people off on the wrong foot. I felt like kids really watched for the worst in his writing that we read, and maybe it was because of this aura, this reputation," said Haley Patail, a senior at Huron. "I really respect that he had a vision and a style and he absolutely didn't care what anyone else thought. He created a world of his own, really. Or maybe just a lens for this world."
It was hard for me to grasp the fact that J.D. Salinger had died. It seemed to me as though he had been living as a ghost over the past few years, merely an empty body on earth. He has been my definition of the word "recluse," a man who entirely enclosed himself within the security of his home, as far away from the world we live in as was humanly possible. "Honestly, I thought he was dead already," admitted Yang.
"He was really an American legend," said Patail. "And he didn't even care."

Trisha Paul is an Editor in Chief of The Emery, Huron High School's newspaper. She is a senior at Huron.