Posted on
Wed, Nov 17, 2010 : 5:57 a.m.
Memoir-in-song helps Jeanne Mackey come to terms with 60th birthday
By Roger LeLievre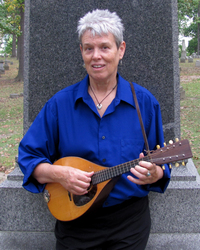 Most folks mark their 60th birthday in modest ways — maybe enjoying a meal with family and friends, scarfing down a slice of cake and enduring a variety of good-natured jibes about aging. Jeanne Mackey of Ann Arbor, who hit that milestone in August, took a slightly different approach.
The result is "Drop the Knife: A Memoir-in-Song," a musical chronicle of the singer/songwriter's search for personal and ancestral healing, from the desert of the Eastern Sierras to the Irish countryside.
She'll present the show Sunday at Keene Theater in the University of Michigan's Residential College, joined by Laszlo Slomovits (guitar, mandolin, fiddle, pan pipes), Lori Fithian (percussion) and Eric Fithian (bass), and Mary Wilson and Dale Petty on backup vocals.
"Music and performance has always worked well for me as far as pulling myself together and helping usher me into a better level of maturity," Mackey explained. "When I really started thinking about this was six or seven years ago … I said when I turn 60 I am going to do a performance that's all original, and somehow I knew that I had it in me. So I started writing songs. My generation is searching for different models of aging, so I hope to contribute to that exploration."
Mackey credits the help and influence of an old friend, Los Angeles-based Stacie Chaiken, for helping her nail down the writing process.
"She does these workshops called 'What's the Story,' about taking autobiographical material and turning it into a play or a novel. I thought 'Wow, what a perfect coach.' So I flew out to L.A. and took her workshop." As Mackey tackled the actual "Drop the Knife" project, Chaiken coached her through online via Skype.
The show's title comes from 14th century Persian mystic Hafiz. According to legend, Hafiz was asked, "What is the sign of someone who knows God?" He replied, "Dear, they have dropped the knife. They have dropped the cruel knife most so often use upon their tender self and others."
Mackey said she can identify with the concept.
"I've got a pretty good cruel knife going on certainly against myself a lot of my life," she said. "I come from a generation where there's a lot of anger at how things are. I guess at this point I realize that kind of harsh judgment and anger doesn't really get me where I want to go and I don't think it gets us as a culture where we want to go. That's why I chose the title."
Mackey is no stranger to music and performance. She rocked the 1970s East Coast topical music circuit as a young musician advocating feminist values and social justice. Throughout the 1980s, she performed with Lifeline, a four-woman rock band that played at conferences, demonstrations, women's music festivals, and labor union events in the D.C. area and nationwide.
Since moving to Ann Arbor in 1995, she has played with local bands What's Inside and Songcatchers, directed the multi-ethnic choral group Sacred Song, and co-founded Women with Wings-West, a drop-in circle of song and spirit. A part-time instructional designer at the University of Michigan since 2001, Mackey co-founded Transition Ann Arbor, which supports local responses to peak oil and climate change.
PREVIEW
"Drop the Knife" A Memoir in Song"
Who: Written and performed by Jeanne Mackey and guest musicians. Proceeds benefit Peace Neighborhood Center's Performance Arts Academy.
What: Musical chronicle of Mackey's search for personal and ancestral healing, from the high desert of the Eastern Sierras to the verdant Irish countryside.
Where: Keene Theatre, Residential College/University of Michigan East Quad, 701 E. University Ave.
When: 2 p.m. Sunday, Nov. 21.
How much: Free; donations accepted. Info: www.umich.edu/~mackeyj.
Mackey said "Drop the Knife," which runs about an hour and a half, revolves around two key events in her life — a "vision fast" she did in the Eastern Sierras, and a trip to Ireland she made in search of her family. The work explores the meaning of magic, homeland, curses and death in a way that draws on her deeply personal experiences of transformative change, and how that process might not have worked out exactly as planned.
"One of the songs is called 'Different By Now,'" she said. "I thought the world would be different by now, I thought we — my friends and those of us who really get how the world needs to change — would have figured things out. And I thought I would be further along. I thought I'd be more enlightened by now."
Sponsorship for this performance comes from U-M Women's Studies, with Naomi Andre' as faculty sponsor. Because of that connection, Mackey was invited to sing and speak with 14 first-year female students recently in a "Gender and the Arts" class at the Residential College that Andre' teaches.
"We talked about personal stories, cultural stories, what it means to break the rules, stereotypes of women and aging. (I) love those cross-generational conversations. That may be an aspect of what's next after this show," Mackey said.
Roger LeLievre is a freelance writer who covers music for AnnArbor.com.