Posted on
Sun, Nov 28, 2010 : 1:15 a.m.
Jeff Daniels still manages to surprise at tasty Thanksgiving-weekend show
By Roger LeLievre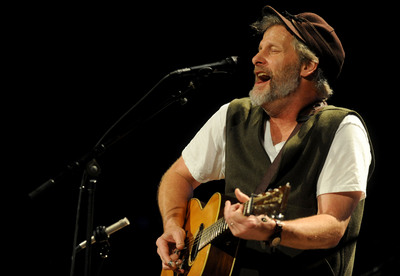 Angela J. Cesere | AnnArbor.com
If there's one thing you can count on at Jeff Daniels' now-annual Thanksgiving weekend show at the Michigan Theater, it's that you never know what kind of musical surprises he has in store.
Case in point: Besides being impressed by the talent that was officially on the bill (more on that later), the sell-out Saturday night crowd got an unexpected treat when Daniels brought Motor City saxophone great Alto Reed, of Bob Seger's Silver Bullet Band, on stage to accompany him on "Detroit Train."
The bluesy tune, written by Daniels a few years back, was darn near a showstopper, and it was here — watching the two trade licks back and forth — that I realized that Daniels seems to have made the transition from an actor who sings on the side to a bona fide blues singer who dabbles now and again on stage and in the movies.
I don't know if that's his intent, but on Saturday night he sure seemed to inhabit the world of the working musician with an ease that has grown more evident over the five years of this show.
Besides Reed, the evening — a celebration of terrific made-in-Michigan music and musicians — included another unannounced act, Kalamazoo-based folk great Joel Mabus, who performed his tune "The Lights Are On In Michigan." If you are in a funk about where our state has been economically, this song is bound to perk you right up. If Michigan ever needs a new official anthem, this one has my vote.
The state of our state was the topic of more than one song Saturday, but there was no self-pity to be heard. "Those of us who are staying, dammit, we're going to turn it around," Daniels vowed. His "I Can See the Michigan In Me" was a fine acoustic ballad that seemed — judging by the looks on the faces around me — to resonate with the crowd, as did the uplifting ensemble number "Keep it Right Here."
Honestly, there were so many fine moments in this show (Daniels knows how to pick 'em when it comes to his musical guests) it's hard to place one above the other in terms of highlights. Three songs from Detroit's Rev. Robert and Bernice Jones were simply superb, with the Detroit- themed "Poor Man's Promised Land" a poignant meditation on the lure the Motor City held for workers decades ago. Jones' vocals on the Rodgers and Hammerstein inspirational gem "You'll Never Walk Alone" sent chills up my spine, so great were their power.
A four-song set by the acclaimed student group The Saline Fiddlers, some 30 strong -— as well as the musical accompaniment throughout the show from two other Saline residents, Brad Phillips (mandolin) and Jed Fritzemeier (upright bass) — made me wonder just what's in the water over there that raises up so many fine pickers.
Anyone who has attended this show in the past knows it wouldn't be complete without "The Big Bay Shuffle," and this year's event didn't disappoint, with Daniels' son Luc "The Roadie" Daniels again leading the audience in the dance-along.
Luc wasn't the only Daniels offspring on stage Saturday night. As they have in the past, The Ben Daniels Band did a set, their growth as musicians from one year to the next evident. Fiddler Wesley Fritzemeier delighted the crowd with his solo licks, and the finger-snapping on "Won't Mistake Me" added a touch of hip to the song.
Finally, I think only a show hosted by Jeff Daniels, before a hometown crowd, could have made an appearance by Charley Marcuse, aka The Singing Hotdog Guy from Detroit's Comerica Park, a rousing success. Marcuse's operatic chorus of "hot dogs,hot dogs," sung Pavarotti style, punctuated a clever ditty about food Daniels wrote just for the pairing.
It was great, offbeat and highly entertaining — as was the show itself. On a weekend that for most of us revolves around food and family, Jeff Daniels and Friends continues to be tasty fun.
Roger LeLievre is a freelance writer who covers music for AnnArbor.com