Posted on
Thu, Jan 10, 2013 : 10:21 a.m.
Jeff Daniels play to explain 'The Meaning of Almost Everything' in Purple Rose Theatre's world premiere
By Jenn McKee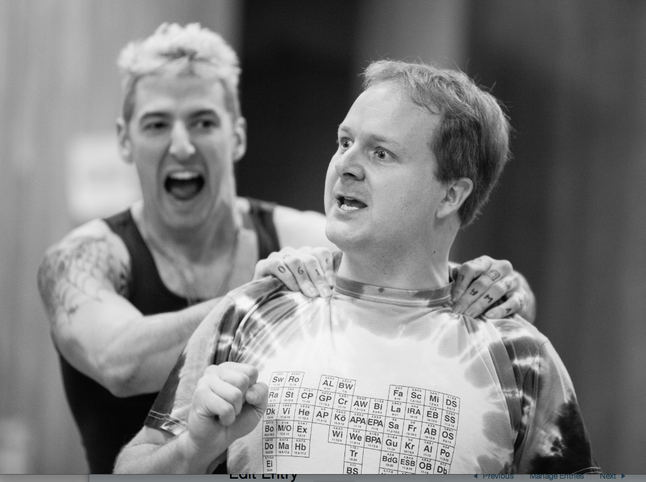 Photo by Sean Carter Photography
Nationally recognized artist-of-all-trades (and Chelsea resident)
Jeff Daniels
may now be in California, preparing to shoot the second season of
Aaron Sorkin
's HBO drama "The Newsroom," but locally, the world premiere of Daniels' 15th play, "The Meaning of Almost Everything," is drawing near at the Purple Rose Theatre.
With elements of slapstick, vaudeville, tragedy and farce, "Meaning" focuses on two men who exist in an undefined place and time. One wants to remain where he is, while the other isn't so sure, and together, they stumble through the darkness to find the answers to life's big questions. (The play contains adult language and content.)
Based on this description, many people will likely expect "Meaning" to resemble Samuel Beckett's classic play, "Waiting for Godot."
"But it's a lot different," said director Guy Sanville. "I think it's funnier; in its own way, it's a bit more linear; and I think it's more hopeful. … But I don't want people to get the notion that it's some highbrow (show), where you're going to walk out going, what did I just go through?"
PREVIEW
"The Meaning of Almost Everything"
Who: Purple Rose Theatre Company.
What: World premiere comedy, by Rose founder and executive director Jeff Daniels, that focuses on two men who exist in an undefined place and time, and stumble through the darkness to find the big answers to life's questions. Contains adult language and content.
Where: Purple Rose Theatre, 137 Park St. in Chelsea.
When: Wednesdays at 3 and 8 p.m.; Thursdays and Fridays at 8 p.m.; Saturdays at 3 and 8 p.m.; and Sunday matinees at 2 p.m. (with some additional performances), Jan. 10-March 9. Previews run Jan. 10-17.
How much: $27-$42 ($22-$32 for previews), with two Ford Friday performances on February 1 and March 1 featuring $18.50 tickets. To reserve tickets, visit www.purplerosetheatre.org or call 734-433-7673.
Actor
Michael Brian Ogden
noted, "I think there are going to be a lot of comparisons to that made, but I think that the reason for that has less to do with any similarities between the two shows, and more to do with the fact that such a huge percentage of 'informed' theater practitioners or enthusiasts or whatever - and I absolutely include myself in this - are not that well informed about absurdist theater. And if we've seen much absurd theater, it's probably been two or three shows, and one of them has definitely been 'Waiting for Godot.'"
"And at least one of them has been terrible," quipped Matt Gwynn, Ogden's costar.
Ogden and Gwynn won't have a lot to work with on stage, since, per Daniels' instructions, "Meaning"'s set is basically an empty space, and only three or four props play a role.
"One of the fun challenges is actually - and it's unnerving for me, because I like doing research - but this play doesn't leave a whole lot of clues as to what got us there, or even necessarily who we are," said Gwynn.
Indeed, the actors have had to fill in a lot of blanks during the rehearsal process, including the question of the nature of the men's relationship.
"There's basically, 'I want you to leave, you want to stay' - and that's about the extent of it," said Ogden. "So one of the cool things about play then would be, you could see five different productions of it, and see five very different plays, based on who was cast and how the director chose to do it. So it's thrilling. … You feel like you're leaving your mark on the piece, or creating some ownership of it. But it's terrifying too, because you think, oh, wow, … please let us be funny. Please let us be entertaining. Please let us move people."
That kind of tightrope-walk experience is a risk for actors and audiences alike. Daniels was reportedly inspired to write "Meaning" after experiencing a perfect moment on stage, when he was performing his music, and wished he could stay in that moment forever. ("That's the instant this play was born," Sanville said.)
Even so, Sanville admitted that when he first read "Meaning," he wasn't sure what to make of it.
"(Daniels has) never written anything like it before," Sanville said. "The first time I read it, I just thought, 'What in the hell is this?' And then I showed it to (local actress/director) Michelle Mountain, … and we came up here and read it out loud, just because I had no clue what I was dealing with. And then once we read it, I thought, 'Oh, man. We're onto something here.'
" … This is a play that just asks a question. Life is hard - it's full of terrible, horrible stuff - but at the end of the day, is it worth it? And if so, what makes it worth it?"
Jenn McKee is the entertainment digital journalist for AnnArbor.com. Reach her at jennmckee@annarbor.com or 734-623-2546, and follow her on Twitter @jennmckee.