Posted on
Wed, Nov 4, 2009 : 3:03 p.m.
"Jeopardy!" Teen Tournament features Saline High School student
By Bob Needham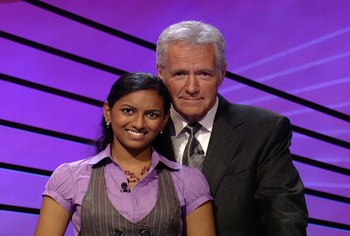 Saline High School student Hema Karunakaram, 16, appears on the syndicated TV game show "Jeopardy!" on Friday as part of the show's 2009 Teen Tournament. The show is broadcast locally on WDIV, channel 4 in Detroit, at 7:30 p.m.
The tournament started Monday and runs through Nov. 13. Unlike the standard "Jeopardy!" games, in which the winnings depend on the amount wagered, for the Teen Tournament the winner gets a $75,000 cash prize, with second and third places winning $25,000 and $15,000, respectively.
The Teen Tournament pits 15 top young minds against each other. As in the standard "Jeopardy!" format, three players at a time compete in various categories of knowledge —Â but the quirk of the show is that the prompt is actually the answer and the contestants must respond with the correct question.
"Jeopardy!," hosted by Alex Trebek, has featured its Teen Tournament since 1987. The winners of the five shows this week, plus the four highest money earners, advance to the semifinals. Those three winners proceed to a two-game finals match. The finalists keep the money they earn, with the prizes as a minimum guarantee. Players reaching the semifinals are guaranteed $10,000, while every player is guaranteed at least $5,000.
According to the Saline School District, Karunakaram scored a perfect 36 on her ACT and is a National Merit Semifinalist. She is also on the Saline Varsity Quiz Bowl team.
The long-running "Jeopardy!" is the top-rated syndicated quiz show on TV, with nearly 9 million daily viewers.
For more information regarding the tournament, visit the Jeopardy Teen Tournament web site.
Bob Needham is director of entertainment content for AnnArbor.com. Reach him at bobneedham@annarbor.com or 734-623-2541, and follow him on Twitter @bobneedham.