concert preview
Jerusalem Quartet returning to Ann Arbor, this time for Shostakovich
Posted on Fri, Oct 5, 2012 : 5:30 a.m.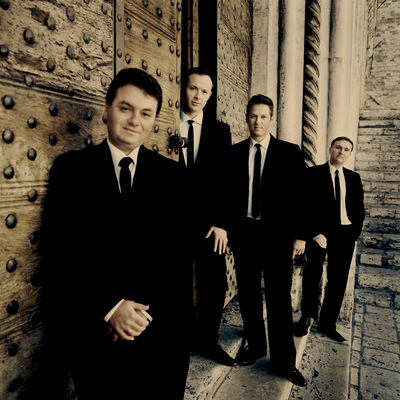 Chamber-music-loving Ann Arborites consider it their due to have regular visits from the world's great string quartets. And the University Musical Society has obliged, issuing repeated, requited invitations to the best of the foursomes. The Guarneri were regular visitors. So, too, the Takacs and the Emerson, a quartet so at home here that folks talked of them as the Emersons, the way Michiganders talk about working at Ford's.

Add to that list the Jerusalem Quartet, which on Wednesday makes its fourth visit here since 2005. Its players were in their mid-20s then, though they had been on the international scene for a decade. They looked even younger than their years, and it wasn't far-fetched to see part of their attraction as the combination of youth and playing wise beyond their years.

The playing has only grown wiser, though, as the years have passed, and the group has lost none of its exhilarating mix of passion and utter control. It's earned them a loyal following, here and abroad, and plaudits that include three BBC Music Awards—an unprecedented three—the last of which was for their cycle of Shostakovich quartets.

So the good news is not only that the Jerusalem—violinists Alexander Pavlovsky and Sergei Bresler; violist Ori Kam; and cellist Kyril Zlotnikov—is returning, but that Shostakovich quartets (Nos. 7 and 3) frame the group's upcoming program. In between them? A little Beethoven, Op. 18, No. 6, for good measure.

As first violinist Pavlovsky pointed out in a recent phone call from Israel, the structure of the concert is not exactly conventional.

"From the beginning you expect Haydn or Mozart," he said. "This beginning is different. There is no warm up. It needs concentration."
PREVIEW
The Jerusalem Quartet
Who: Accomplished chamber ensemble.
What: Quartets by Shostakovich and Beethoven.
Where: Rackham Auditorium, 915 E. Washington St.
When: Wednesday, 7:30 p.m.
How much: $24-$48, UMS Michigan League Ticket Office, 734-764-2538, and online at ums.org.
That might be especially true of the Shostakovich quartet they chose to open with: Quartet No. 7 in F-sharp Minor, Op. 108, which at about 13 minutes is the shortest of the Shostakovich quartets.
"Because of this shortness, it's very intense," said Pavlovsky. "It has a lot of ideas in a very limited time. It's like a very good cognac. You don't really have to have a lot of it."
Pavlovsky and his fellow players had just been rehearsing the quartet when I spoke to him. "Probably because I've just been practicing it, I think it's one of he most interesting and powerful of the Shostakovich quartets," he added. "It has this very tense, dramatic, nervous tonality to it."
Shostakovich wrote the piece in 1960, in memory of his first wife, Nina Vassilyevna, who died in 1954. The piece, Pavlovsky said, is a release of sorts. "He is just very sad and very emotionally empty, in a way," he said. "It's a very unique quartet. It's very rhythmical in a way, but it's also harmonically so unstable."
It has a searching quality that Pavlovsky also finds in the Beethoven quartet that follows. "In a way, Beethoven is always searching for something new," he said, like "extreme tension between themes and movements."
Pavlovsky likes the connection between Beethoven and Shostakovich.
"I think Shostakovich and Beethoven work well together on the program," he said. "In a way, Shostakovich, with all his ideas he was almost always connected to classical and romantic music. You have inner ideas between the notes, but many times if you look at his scores, it looks like Haydn or Beethoven."
In a way, he said, the quartet the program closes with, the Shostakovich Quartet No. 3 in F Major, Op. 73, is classical, in the manner of a big Beethoven quartet, or Dvorak or Tchaikovsky. "It has a big classical structure," he said of the five-movement work.
It is also, he said, "one of the really great quartets," and utterly different from the seventh quartet that opens the program.
"The end," he added, "is pure Shostakovich," asking existential questions and providing mystical answers."