Posted on
Thu, Nov 1, 2012 : 10:54 a.m.
Jewish Book Festival to feature Superman event, former 'Daily Show' writer, local authors and more
By Jenn McKee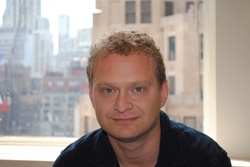 The
Jewish Book Festival
, a two-week-long event (Nov. 5-18) presented by Ann Arbor's Jewish Community Center, will celebrate its 25th anniversary with loads of enticing events—but not a lot of fuss.
"I'd like to say (we have things specially planned)," said Karen Freedland, the JCC's Jewish cultural arts and education director. "But we're just so excited that we made it to our 25th anniversary."
Celebrating books and authors that examine Jewish culture, history, politics and experience in some way, the festival offers several lunch discussions and evening events, with a cooking demonstration and a children's event also on offer. Programs are generally free and open to the public, and lunch may be purchased at lunch programs for $10 in advance, $15 at the door. The children's event costs $5.
"The kids' event should be a riot," said Freedland. "Larry Tye wrote a book about the history of Superman, so we're inviting kids to come in super hero costumes, and we'll have Superman and Super Grover there, and we'll be serving Superman ice cream. Kids can get their picture taken with Superman, and we'll be selling comics. Whether you're a boy or girl, everybody needs superhero."
In addition to Tye (who will also discuss his book in a separate program), Zoe Fishman, author of the young adult novel "Saving Ruth," will offer a talk; University of Michigan creative writing professor Eileen Pollack will speak about her novel "Breaking and Entering," while Sphinx Organization founder Aaron Dworkin will discuss his memoir, "Uncommon Rhythm: A Black, White, Jewish, Jehovah's Witness, Irish Catholic Adoptee's Journey to Leadership."
"I'm looking forward to Dworkin's talk," said Freedland. "He's had a very complicated life. … There are so many groups that he identifies himself with, and the book is about how his life story brought him to music, where he is now. It's should be a really inspirational talk."
PREVIEW
Jewish Book Festival
What: Ann Arbor's Jewish Community Center presents its 25th annual celebration of the written word, with numerous author talks scheduled over the course of two weeks, including Zoe Fishman ("Saving Ruth"); Sphinx Organization founder Aaron Dworkin ("Uncommon Rhythm"); and former "Daily Show" head writer and producer David Javerbaum ("The Last Testament"), among others. A children's program and a cooking demonstration will also be part of this year's lineup.
Where: Jewish Community Center of Greater Ann Arbor, 2935 Birch Hollow Dr. in Ann Arbor.
When: Nov. 5-18. To see a detailed schedule of events, visit www.jccannarbor.org.
How much: Author presentations are free and open to the public. (Lunch may be purchased at Lunch with the Author events for $10 in advance, $15 at the door.) 734-971-0990 or www.jccannarbor.org.
Caroline Stoessinger
, pianist and biographer of the oldest living Holocaust survivor ("A Century of Wisdom"), will make a stop at the festival, as will Israeli political figures
Moshe Arens
("Flags over the Warsaw Ghetto") and
Avraham Burg
("Very Near to You").
Matti Friedman
, whose "The Aleppo Codex: A True Story of Obsession, Faith and the Pursuit of an Ancient Bible" has been gaining momentum, will speak, as will former "Daily Show" writer/producer
David Javerbaum
("The Last Testament") and journalist
Ann Marie O'Connor
("The Lady in Gold: The Extraordinary Tale of the Gustav Klimt Masterpiece, Portrait of Adele Bloch-Bauer").
All these books and more will be available for sale at the festival, which hosts a book fair throughout the two week event.
"We're working with Barnes and Noble as book suppliers, so we'll have over 800 titles on hand," said Freedland. "We'll have a really great in-house, temporary bookstore at the JCC."
Local therapist Julie Nagel ("Melodies of the Mind") and Zingerman's co-founder and CEO Ari Weinsweig ("A Lapsed Anarchist's Approach to Being a Better Leader") will have individual events, while the festivals' local authors brunch will offer up several area writers in one program.
"I love the local authors event," said Freedland. "It's so much fun, because we get to gather all these talented people from our community who write. They may have written a tech book, a novel, some of these people are connected to the university, … (the brunch) is always a big draw."
Near the end of the festival, Aviva Kleinbaum and Aric Mutchnick ("Fusion by Nadia: A Quilting of Flavors from Iraq, Israel and America") will offer a cooking demonstration, and attendees will not only taste the results, but enjoy a full lunch prepared by the mother-son team. This is one of seven festival lunch events.
"That's quite a few lunches for us to put on," said Freedland. "So if you can break away from work for an hour, you can come in, hear from an author, and rush back out. … It's wise to pre-register for the lunch and learn programs, so I recommend it. But we always try to find a place for everyone."
Jenn McKee is the entertainment digital journalist for AnnArbor.com. Reach her at jennmckee@annarbor.com or 734-623-2546, and follow her on Twitter @jennmckee.