Posted on
Thu, Apr 12, 2012 : 7 a.m.
Jewish Federation and JCC Women's event looks at social networking
By David Shtulman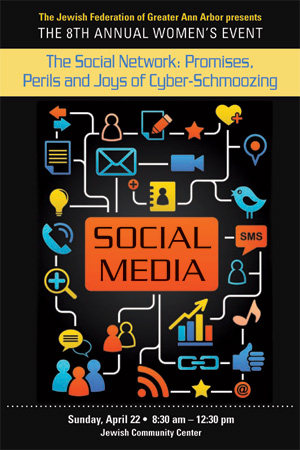 The
Jewish Federation of Greater Ann Arbor
and the
Jewish Community Center
Social Media invite.doc
are sponsoring a women's event entitled, "
The Social Network: Promises, Perils and Joys of Cyber-Schmoozing
." The event will be held on Sunday, April 22, from 8:30 a.m. to 12:30 p.m. at the Jewish Community Center, located at 2935 Birch Hollow Drive in Ann Arbor.
The program features Tilly Shames, executive director of the University of Michigan Hillel, addressing Jewish life in the iPhone Generation; Polly Gipson, supervising faculty at the University Center for the Child and the Family, speaking about Strategies for Managing Screen Time for Children and Adolescents; and Deborah Nystrom, owner of Reveln Consulting and a social media coach, on How to Be Cool on Facebook and Other Social Media Graces.
Registration opens at 8:30 with light snacks. The featured speakers begin at 9 a.m. and are followed by a brunch catered by Simply Scrumptious Catering. All food is kosher under supervision.
The cost of the program is $25 per person or $18 for students. Attendees are encouraged to register by April 16 online at www.jewishannarbor.org or by phone with Cindy Adams at 677-0100. However, walk-ins are also welcome.