Posted on
Wed, Apr 25, 2012 : 5:57 a.m.
Jewish Film Festival coming to the Michigan Theater
By Jenn McKee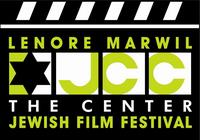 The Ann Arbor leg of the Michigan multi-city
Lenore Marwil Jewish Film Festival
kicks off on Sunday, April 29, with 15 films—documentaries and narrative films that examine Jewish history, culture, and identity—scheduled for screenings over the course of 5 days at the Michigan Theater.
Here's this year's lineup, broken down by topic.
History: At 2 p.m. Sunday, the JFF's opening film, "An Article of Hope," tells the story of an Auschwitz survivor's son, Israel's first astronaut, who takes a tiny Torah scroll up that survived Bergen-Belsen up into space, on an ill-fated mission; followed by "Cohen on the Bridge," an animated short that tells the story of the 1976 hostage rescue in Entebbe, Uganda by Israeli Special Forces, in one of the most brazen rescue operations in history. And on Wednesday at 8 p.m., "Buried Prayers" documents an expedition to unearth personal objects buried six inches underground by survivors of the Warsaw ghetto uprising held in the Maidanek death camp.
Comedy: "Reuniting the Rubins," playing Sunday at 8 p.m., stars Timothy Spall (Wormtail in the "Harry Potter" films) as a laywer whose mother emotionally blackmails him into reuniting his estranged children for a Jewish holiday.
Drama: The 1937 Polish film "The Dybbuk," playing Monday at 1:30 p.m., was inspired by playwright S. Ansky's ethnographic research of Jews living in the Polish-Russian countryside just before World War I. On Monday at 8 p.m., "My Australia" focuses on a 10 year old boy in 1960s Poland who hangs out with an anti-Semitic gang of kids, only to learn that his own family is Jewish.
PREVIEW
2012 Lenore Marwil Jewish Film Festival
Who: .
What: Five-day festival that focuses on documentary and narrative films that explore Jewish history, culture, and identity.
Where: Michigan Theater, 603 E. Liberty St.
When: Sunday, April 29 to Thursday, May 3.
How much: Tickets $10 per screening or $80 for a festival pass for JCC members/$85 for non-members for all 13 films. For further information, go to www.jccannarbor.org.
On Wednesday at 5 p.m., "Naomi," a psychological mystery, focuses on a professor, his young wife, and her lover, who turns up dead. And closing up this year's festival is "Mabul (The Flood)," on Thursday at 8 p.m., which tells the story of a smart but physically underdeveloped boy who's family seems to be coming apart as his bar mitzvah draws closer.
Love stories: The documentary "Love, Etc.," showing Monday at 5 p.m., tracks five love stories in New York City over the course of one year; and "Remembrance," on Tuesday at 8 p.m., tells the story of two concentration camp prisoners who believe each other to be dead, only to find each other in New York City more than 30 years later.
Current affairs: In "Dolphin Boy," playing Tuesday at 1:30 p.m., an Arab teen in Israel, who survived a violent attack and subsequently disconnected from humans, is treated with contact with dolphins in Eilat - and while he begins to speak again, he also erases his past and refuses to go home to his mother. On Wednesday at 1:30 p.m., Oscar-winning film "Strangers No More" is followed by "Homecoming." "Strangers" focuses on a Tel Aviv school where children from 48 different countries come together to learn; "Homecoming" explores issues of Israeli identity, as the state prepares to deport foreign workers and their children.
Artists: On Tuesday at 5 p.m., "Tony Curtis: Driven to Stardom" focuses on the life of one of Hollywood's biggest stars; and on Thursday at 5 p.m., "Sholem Aleichem: Laughing in the Darkness" focuses on the author whose stories became the basis of the hit Broadway musical, "Fiddler on the Roof."
Jenn McKee is the entertainment digital journalist for AnnArbor.com. Reach her at jennmckee@annarbor.com or 734-623-2546, and follow her on Twitter @jennmckee.