Posted on
Fri, May 13, 2011 : 7:50 a.m.
Jewish Film Festival returning to the Michigan Theater
By Jenn McKee
If the Lenore Marwil Jewish Film Festival were a person, it would now be celebrating its bar/bat mitzvah year (and we'd all be saying, "Mazel tov!").
Having reached its 13th anniversary, the annual, multi-site Detroit area festival that highlights work that explores Jewish culture and history is still going strong. And the five-day Ann Arbor leg of the festival (now in its 10th year), featuring 15 films and two "lunch and learn" discussions, will happen at the Michigan Theater May 15-19.
"There were so many thought-provoking, diverse and well-made films this year that we actually had films that we had to turn away," said Mimi Weisberg, the Jewish cultural arts and education director at Ann Arbor's Jewish Community Center, in an e-mail. " … We believe our community will walk away … thrilled with the broad range of excellence that the committee brought to Ann Arbor."
PREVIEW
Lenore Marwil Jewish Film Festival
What: Annual film festival that features recent works that explore Jewish history, culture, and life.
Where: The Michigan Theater, 603 E. Liberty St.
When: May 15-19. For a complete schedule of events, visit http://www.jccannarbor.org/cultural-arts-education/jewish-film-festival/.
How much: $10 for each screening/discussion; $85 for a festival pass ($80 for JCC members). Call 734-971-0990 or visit www.jccannarbor.org.
Film festival chairs
Levana Aronson
and
Elaine Margolis
worked with JCC staffers to organize this year's event. So what events are on tap this year? Below, you'll find a quick guide to your options.
For those who like to learn while lunching: On Monday at noon, Marcia Fishman, director of the Michigan Office of the Screen Actors Guild, will lead a discussion on the Michigan film industry. On Wednesday at noon, Judith Laikin Elkin, Ph.D., author of The Jews of Latin America; Myriam Schlossberg, current resident of the Jewish community in Buenos Aires, Argentina; social worker Sue Sefansky; and David Eduardo Schteingart, M.D., will discuss Jews in Argentina.
For the family: On Sunday, two very different films may appeal to families. At 2 p.m., "Inside Hana's Suitcase" combines documentary and drama to tell the true story of a group of Japanese students and their teacher, who work to solve the mystery of a girl's suitcase from Auschwitz. (Kids 13 and under are admitted free to this film, and Jamie Wraight, executive director of the Voice/Vision Holocaust Survivor Oral History Archive at the University of Michigan/Dearborn, will lead a discussion following the film.)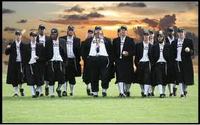 And "The Yankles," at 8 p.m., is a comic drama based on the true story of a washed-up, ex-con baseball player who, as part of his community service, helms an Orthodox baseball team.
For the history buff: "Winston Churchill: Walking with Destiny," plays on Monday at 1:30 p.m. and, with narration by Ben Kingsley, focuses on Churchill's early opposition to Hitler and Nazism. (Richard Marsh, president of the Winston Churchill Society in Michigan, who will speak before the film.)
For the documentary fan: At 1:30 p.m. on Tuesday, two short documentaries will be shown together: "Ingelore," which features the first person account of a deaf Jewish woman's escape from the Nazis, as filmed by her son; and "Just Like Home," which focuses on a Jewish orphanage in Moscow. (Bring tissues; just watching the trailer for the latter film nearly broke me. Check it out below.)
For those who like to see Oscar-nominated actors in lesser known works: James Franco stars (with Jeff Daniels and "Mad Men"'s easy-on-the-eyes Jon Hamm) as Beat poet Allen Ginsberg in "Howl" on Monday at 5 p.m.; and Jesse Eisenberg anchors "Holy Rollers," playing on Wednesday at 8 p.m., which focuses on Hasidic Jews who, in the '90s, were used to smuggle ecstasy from Europe to the U.S.
For those who like to watch drama happening in someone's else's family, for once: the Argentinian film "Anita," playing at 1:30 p.m. Wednesday, focuses on a young woman with Down syndrome who, after a car bomb goes off near her Jewish Community Center, gets disoriented and wanders the city looking for her mother. (See the trailer below.) "Saviors of the Night," showing at 5 p.m. Wednesday, is a French and German film that tells the true story of a Jewish mother and daughter in Germany who are housed by a Catholic farmer in 1943. The Israeli film "Brothers," showing on Thursday at 1:30 p.m., focuses on a secular kibbutz farmer in Israel who clashes with his Torah scholar brother. (Guest speaker Marc Bernstein, Associate Professor of Jewish and Muslim Studies, will lead a discussion following "Brothers.") And "Nora's Will," screening Thursday at 8 p.m., is a Mexican comic drama about how a family responds to the matriarch's suicide during Passover, following her divorce from a 30 year marriage.
For the fan of serious narrative drama: The multi-narrative "Ajami," playing at 8 p.m. Monday, focuses on an area of Jaffa where Arabs, Jews, and Christians live together in fragile peace. And "Seven Minutes in Heaven," screening on Tuesday at 5 p.m., is a neo-noir thriller about a woman struggling to cope with the physical and mental scares of a terrorist bus bombing.
For those who like their comedy and drama mixed together: On Tuesday at 8 p.m., "The Human Resources Manager" tells the story of the title character, who works at Israel's largest bakery and must accompany the body of a suicide-bomb victim back to her homeland. And on Thursday at 5 p.m., "The Matchmaker" focuses on a teenage boy in Haifa who gets a summer job with a Holocaust survivor who brokers marriages and smuggles goods. Check out the trailer for "The Matchmaker."
Happy filmgoing - and for more details, visit http://www.jccannarbor.org.
Jenn McKee is the entertainment digital journalist for AnnArbor.com. Reach her at jennmckee@annarbor.com or 734-623-2546, and follow her on Twitter @jennmckee.