Posted on
Sat, Jun 22, 2013 : 9:20 a.m.
Jim Ottaviani recounts adventures in science in new graphic novel, "Primates"
By Jennifer Eberbach
When graphic novel author and University of Michigan research librarian Jim Ottaviani reads about the history of science, he often becomes fascinated. An article, book or website sparks his curiosity to dig deeper. His comics are born from this deep love of reading and research.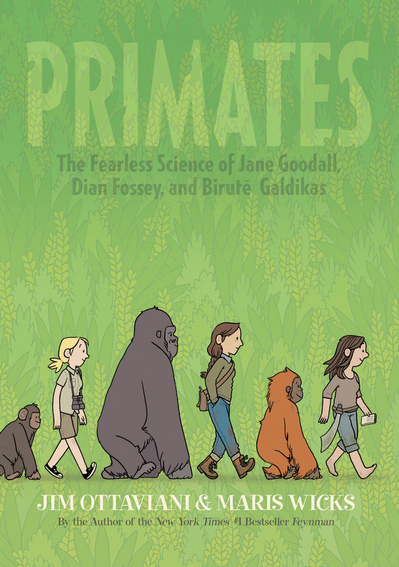 "If I find myself searching the library stacks for everything I can find or looking in the back of books for more references," he says, "it's usually a sign that I am onto a good story that I will want to spend more time with."
Ottaviani tells true stories about scientists' lives and their discoveries in comic form. He has done Galileo, Oppenheimer, Darwin, and many other scientists with tales that fascinated him. His 2011 book "Feynman," about theoretical physicist Richard Feynman, was a New York Times Best Seller.
The lives and work of 3 of primatology's leading ladies are the subjects of his newest graphic novel, Primates: the Fearless Science of Jane Goodall, Dian Fossey, and Birute' Galdikas (First Second, 2013). It is one of the "Top 10 Comics & Graphic Novels" of spring, according to Publisher's Weekly. Massachusetts illustrator Maris Wicks created the "lively, non-realistic-cartoon style" he and his publisher were looking for in the book's visuals, according to the author.
As in his other books, "Primates" is about more than the scientific discoveries themselves. It is also a set of biographical accounts of how life experiences brought these 3 women to moments of discovery. It is the very human-oriented way Ottaviani recounts the history of science that makes this book appealing to a wide audience - comic book fans, science buffs, or nonfiction and biography fans alike.
The 3 women, all protegees of anthropologist Louis Leakey, immersed themselves in the natural habitats of greater apes. Goodall lived with chimpanzees for decades, Fossey became a leading expert on mountain gorillas, and Galdikas furthered our understanding of orangutans.
Like Ottaviani says, "their science did not happen in a vacuum." "Primates" reveals ways in which their personal lives, aspirations, challenges, and relationships influenced their careers.
"Scientists have lives too!" Ottaviani exclaims. He thinks that "the stereotype of science is that it is fairly cold, not so much a human activity. But it is, in fact, one of the most fundamental human endeavors to ask a question and then trying to figure out the answer. There is usually a great story behind why that question was asked and the answers it found."
In an excerpt of the book available on Ottaviani's G.T. Labs website, we meet Goodall as a child. She is bright-eyed and already determined to fulfill her destiny, despite her mother's hesitations. Soon, we find her older and working as Leakey's secretary. Sometimes he is frustrating, and she suspects him of having an affair on his wife. Such tidbits give us a glimmer of insight into her aspirations and relationships.
Recounting the lives and work of real-life people is not a particularly common motif in the comic book world. Calling his works 'non-fiction graphic novels' is even a contradiction in terms.
"When I started doing non-fiction comics," says Ottaviani, who started in the mid-90s, "there were just a few that were non-fiction. I looked to read it and ended up writing the stuff I wanted to read," he says. But in an fictional action-adventure world, true stories from history can be just as compelling. "The comics medium is more than capable of handling any kind of material."
Ottaviani found out that science is "a fairly natural subject for comics," he says. "Scientists communicate with pictures. It is often times a visual endeavor. Head to the library and flip through the books in the literature and classics section. And then do the same thing over in the science and engineering section. Come back and tell me where you found all the pictures. It's in the science books," says the librarian and former nuclear engineer, who runs the UM's Deep Blue archive.
"Another reason" to share these stories in graphic novel form "is to hopefully reach folks who would never pick up science book but are fans of comics," he says.
Ottaviani got the idea for "Primates" when he was researching female scientists for his 2009 non-fiction book of comics, "Dignifying Science: Stories About Women Scientists." He did not have any particular interest in primate studies over other types of science - although, he picked up an appreciation for it along the way - but stories about Galdikis fascinated him. She was included in the 2009 book. "I thought, in the back of my mind, I should tackle all 3. And then I did it," he says about his early inklings of his newest book.
After researching the women, Ottaviani has left with a greater appreciation for their contributions to better understanding our close genetic 'cousins.' "Primates are known in conservation circles as 'charismatic mega-fauna.' They remind us of ourselves, mostly because we are so closely related," he says. The biggest lesson these greater apes have taught him; "The more you learn about the behaviors of chimpanzees, gorillas and orangutans, the less special we seem to become," he says. "But I think that is actually OK."
Hear more from Jim Ottaviani at an author event Nicola's Books, 2513 Jackson Ave. (in the Westgate shopping center) on June 25 at 7 p.m. The event is free.