Posted on
Fri, Jun 10, 2011 : 9:46 a.m.
J.J. Abrams' 'Super 8' movie hails Mackinac Island as 'beautiful' vacation hotspot
By Nathan Bomey
J.J. Abrams is, to put it simply, pure Michigan.
The "Lost" creator and movie director included an ode to the Great Lakes state into his latest film, "Super 8," which opens today.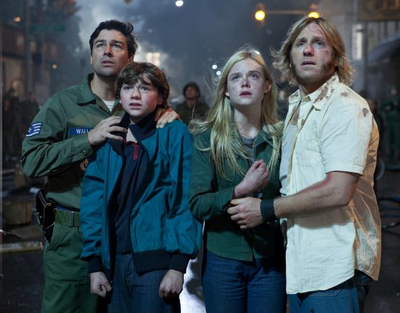 Paramount Pictures
The reference was impossible to miss at the midnight show last night at the
Quality 16
theater in
Scio Township
. The movie, set in the 1970s, tells the story of several children who witness a suspicious train accident while filming an amateur thriller with an 8-millimeter video camera.
In a moment early in the film, a boy and a girl — playing a couple — are filming a scene while a train whirls by on nearby tracks.
"What am I supposed to do, go to Michigan with you," the boy yells.
"Mackinac Island is beautiful this time of year!" the girl responds.
The line drew a laugh and a smattering applause from the Ann Arbor area crowd.
There's nothing like a little free advertising for one of Michigan's most famous vacation hot spots, where fudge and a lack of motorized vehicles foster an old-fashioned feel.
It's not the first time the state has turned up in a production by Abrams, who wrote and directed "Super 8."
In "Lost," which Abrams co-created and initially helped write, the characters stranded on a mysterious island eventually found out that a secretive sect of scientists launched by two University of Michigan doctoral students had previously run myriad experiments on the island and its creatures.
And, for the skeptics out there, the Mackinac Island reference wasn't any sort of quid pro quo. "Super 8" was not filmed in Michigan and, thus, did not benefit from the state's film incentives package.
Contact AnnArbor.com's Nathan Bomey at (734) 623-2587 or nathanbomey@annarbor.com. You can also follow him on Twitter or subscribe to AnnArbor.com's newsletters.