Posted on
Wed, Oct 26, 2011 : 5:09 a.m.
Iconic singer Joan Baez to perform at the Michigan Theater
By Kevin Ransom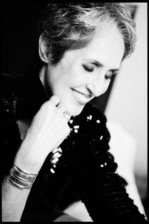 When writing about an inspirational, highly influential musical and cultural figure like
Joan Baez
, where does one begin?
Well, there's her amazing longevity—one of the key markers of greatness for a recording artist. Indeed, she marked two big milestones in the last year or so. Baez, who comes to the Michigan Theater on Tuesday, turned 70 this year, and last year was the 50th anniversary of her self-titled debut album
And even though she started out in the folk-music realm, and most of her records have adhered to folk styles, her influence has long since spread way beyond the folk scene and into the popular-music mainstream.
And it's hard to think of any other performer who lent their time, fame and efforts to as many social causes as Baez has devoted herself to over the last half-century.
"Baez's voice was a revelation to a middle class kid in the 1960s," says Dexter's Colleen Moore, a former regular contributor to Dirty Linen, the folk-music mag that folded last year. "There was certainly nothing like it in radio pop or the archives of our parents' music. Voices like that were for classical music or church music, not for sad tales of the down and out, or injustice.
"And her music and activism are intertwined, at least in the public perception. The irony today is that the issues that Baez championed" over the years "have come full circle to bite us in the ass again," says Moore. "Everything we suspected in the '60s was true, as time and Wikileaks have demonstrated. So you can't fault her consistency."
PREVIEW
Joan Baez
Who: Legendary folk singer and social activist who is one of the most important, influential folk-music artists of the last half-century.
What: Traditional ballads from the folk, gospel and Appalachian traditions, as well as socially conscious / politically themed songs, with a live repertoire that draws from all facets of her career.
Where: Michigan Theater, 603 East Liberty Street.
When: Tuesday, 7:30 p.m.
How much: $27, $45, $69. Tickets available at Ticketmaster.com and all Ticketmaster outlets including the Michigan Union Ticket Office. Charge by phone at 800-745-3000.
Matt Watroba
, the longtime Detroit-area folk singer / radio host who's now a producer/announcer for WKSU in Kent, Ohio and for Folkalley.com, notes that "Joan paved the way and, perhaps more importantly, gave permission to, thousands of young girls to rise up and sing. There were not a lot of role models at that time for young women to stand out front. But Joan Baez was that role model.
"Joan's early ballad records probably did more than any other recordings at that time to legitimize traditional music and bring it to a wider audience," Watroba continues. "The interpretations were both beautiful and faithful to the spirit of the songs. For many, Joan defined those ballads because she was the first to make them popular.
"Joan used, and continues to use, her art to change, first the hearts and then the minds, of the people who are paying attention."
And her activist work indeed helped make a difference. Her work for the civil rights movement of the '60s, and the anti-war movement of the '60s-'70s played a key role in attracting attention to those causes. The same can be said of her social activism in favor of human rights in other nations.
In recent years, though, Baez has not been the globe-trotting, guitar-wielding activist she was for so long. When I last spoke with her, during a 2008 interview for The Ann Arbor News, she noted that all of that activism "really took me away from my son for a lot of years when he was a child in the '70s."
So, the last several years, she's been making up for lost family time by "pretty much being a homebody," she said. Her mother is now 98, and her granddaughter is 8, "so I spend a lot of time at home with them. I know people probably have a hard time imagining me sitting on the sofa watching TV with my mom, instead of being out in front of some march, but that's really what my life is now," she said.
That doesn't mean she has stopped taking her socially conscious music to her fans. Baez still performs regularly, but her tours are now shorter than they once were.
Baez has also continued to receive acclaim and deliver a socially conscious message in recent years. Her last album, "Day After Tomorrow" ('08), won effusive reviews and was a rootsy, earthy offering that, unsurprisingly, had social / political / spiritual overtones. One, the title song, is a Tom Waits composition about a scared soldier fighting in Iraq. In 2009, Baez was the subject of a critically-acclaimed documentary, "Joan Baez: How Sweet the Sound," and her autobiography, "And a Voice to Sing With" was re-released in paperback.
This year Baez was again honored, for both her music and her humanitarian work. In February, her 1960 debut album, "Joan Baez," was inducted into Grammy Awards Hall of Fame—an honor awarded to "recordings of lasting qualitative or historical significance" that were released at least 25 years ago.
Then, in March, Baez was honored by Amnesty International, which created an award named in her honor for her "lifetime of human rights solidarity and advocacy," said the organization. The award is called the "Joan Baez Award for Outstanding, Inspirational Service in the Global Fight for Human Rights," and Baez was its first recipient this year. Every year, moving forward, the award will be given to an artist—whether from the world of music, film, sculpture, paint or other medium—who has similarly helped advanced human rights.
Moore reflects that "another one of Baez's signature accomplishments was providing a medium to translate Bob Dylan for a mass audience. His was a voice that wasn't going to fly with listeners unused to so much grit, no matter what he had to say. Baez was one of many, but she was his main champion. For him, and for her own songs and interpretations, she married the pretty to the gritty, opening up our ears and our minds."
Kevin Ransom, a freelance writer who covers music for AnnArbor.com, interviewed / wrote about Joan Baez for the Ann Arbor News in 2003, '05 and '08. He can be reached at KevinRansom10@aol.com.