Posted on
Sat, Sep 22, 2012 : 5:56 a.m.
Joe Jackson bringing Duke Ellington tribute, some old favorites to Michigan Theater
By Will Stewart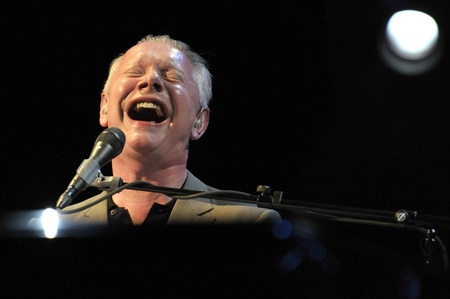 AP file photo
When he decided to record a tribute to one of his great heroes,
Joe Jackson
knew he'd have to put his own spin on things.
Thus "The Duke," Jackson's tribute to Duke Ellington, filters 15 of Ellington's classic compositions to create an album that's at once faithful and completely innovative.
"I revere the Duke, but I didn't want to make a reverent album," Jackson has said of the album, which re-envisions the Ellington songbook through a very modern, very Jackson-esque prism.
Consider: the record mixes organic and electronic instruments to rework tunes like "It Don't Mean a Thing," and "Mood Indigo."
Consider: The presence of very new-wavy guitars and Jackson's distinctive vocal style that could have been lifted right off the master tapes from 1979's "Look Sharp."
Consider: There isn't a single horn on the entire record.
Wait … no horns? On a tribute to Ellington? The man who introduced the world to Johnny Hodges and Paul Gonsalves?
"Not using horns was a good place to start," said Jackson in comments posted on his website. He brings his Ellington-inspired show to the Michigan Theater on Sept. 27.
"It makes you think, 'What else can we do?'
PREVIEW
Joe Jackson and the Bigger Band
Who: Talented and quirky singer, songwriter, musician and bandleader—and occasional hitmaker—who's comfortable in countless different music genres. With a band featuring Regina Carter on violin.
What: Songs from his new Duke Ellington tribute album, as well as selections from throughout his 30-year career.
Where: Michigan Theater, 603 E. Liberty St.
When: Thursday, Sept. 27.
How much: $35-$65. Tickets available through Ticketmaster.com.
Good question. In fact, Jackson's very calculated gamble—to toy with some of modern music's most treasured pieces—paid some very rich artistic rewards.
But for Jackson, it wasn't that much of a gamble. Ever the creative explorer, he said the iconoclastic approach to Ellington's oeuvre only makes sense.
"Ellington didn't consider his own arrangements to be sacred," Jackson said. "He constantly reworked them, sometimes quite radically.
"So I think my approach is in the spirit of the man himself."
It's a great album, worthy of inclusion among the best of Jackson's already inventive and ambitious work. Think of it as falling somewhere between "Jumpin' Jive," his 1981 tribute to jump blues, and 1984' jazz-influenced "Body and Soul."
As usual, Jackson has surrounded himself with fine musicians, including old comrades and new collaborators alike, including jazz giants Christian McBride on bass and Detroit native Regina Carter on violin, as well as guitar wizard Steve Vai.
Iggy Pop even shows up to duet on "It Don't Mean a Thing," and Sharon Jones delivers the goods on a soulful, "I Ain't Got Nothin' But the Blues."
For Jackson, it's no different than Ellington incorporating individual stylists like Hodges and Ella Fitzgerald into his outfits.
"One of things I learned from (Ellington) was how to work with musicians," he said. "He was able to showcase the personality of every player in his band, yet still be completely in control.
"He had a way of leading without being a dictator, of realizing his own vision while allowing others to shine. Ellington was a big-picture guy, and that's what I've aspired to be."
While the Ann Arbor show won't have Pop or Jones in tow, Carter will make the date, as will longtime Jackson associates like guitarist Vinnie Zummo and percussionist Sue Hadjopoulos.
"When I started this it felt a little daunting—like, how am I going to pull this off?" he said. "But it started to pick up momentum, and took on a life of its own. "I got to work with people I never thought I'd be able to get, and they were all extremely enthusiastic and supportive of the project. It all came together in a way that surpassed my expectations.
"And it's been a hell of a lot of fun."