Posted on
Sun, Sep 23, 2012 : 11:13 a.m.
Joe Jackson hits the Michigan Theater, U-M hosts a Health and Wellness Fair this week
By Ann Dwyer
HEALTH
There will be a Fall Health And Wellness Fair at the Gerald R. Ford School of Public Policy on Wednesday. 11 a.m.-2 p.m. The fair will include a farmer's market (cash and check only), a chef demonstration and free chair massages. There will be special guests and plenty of vendors. Free admission. 735 S. State St., Ann Arbor. 734-764-3490.
MUSIC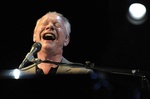 AP file photo
See Joe Jackson at the Michigan Theater on Thursday. 8:30 p.m. Jackson's music has run the gamut from new wave to jazz, jump blues, Latin dance music and cabaret in the course of the his career, which began with the hit single "Is She Really Going Out with Him?" Thursday, he and his band will be joined by Regina Carter, the great Detroit jazz violinist. $45 and $65. Tickets available at Ticketmaster. 603 East Liberty St., Ann Arbor.
LECTURE
The Penny Stamps Lecture Series brings interesting and intelligent people to the Michigan Theater on Thursdays. 5:10 p.m. This week, there will be a talk by Jennifer Karady and Paul Rieckhoff. Karady is a photographer of large-scale staged portraits who works with real people to dramatize their stories. She has a critically acclaimed series, "Soldiers' Stories from Iraq and Afghanistan." Rieckhoff is a writer, social entrepreneur, advocate, activist and veteran of the United States Army and the Iraq War. He is the Founder and Executive Director of Iraq and Afghanistan Veterans of America. Free. 603 East Liberty St., Ann Arbor. 734-668-8463. www.michtheater.org/