Posted on
Mon, May 6, 2013 : 5:11 a.m.
Joe Reilly offers a busload of music, spirituality on new CD and at Kerrytown show
By Roger LeLievre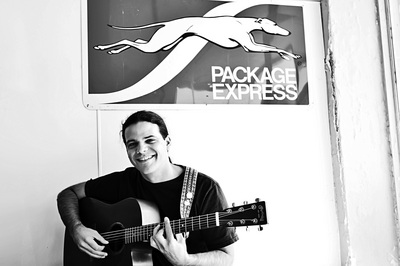 When
Joe Reilly
, an Ann Arbor singer, songwriter and educator known for his commitment to spirituality and the environment, embarked on his first national concert tour back in 2001, he did so in an unusual way: He took the bus.
Not a tour bus. Reilly carried his guitar and backpack as he traversed the country via Greyhound, stopping to stay with friends and share his music wherever he could, including street corners, subway stations, parks, in front of the White House, on the shores of the Atlantic and Pacific oceans, in coffee shops, cantinas and community centers, living rooms and at open mics.
"I call it a tour half jokingly, because there were no real gigs booked," Reilly recalled. "That was after I recorded my first album, 'Mothers and Daughters.' I got the CD and I worked several jobs, saving up money, and I bought a 60-day bus pass from Greyhound to go wherever Greyhound went in that amount of time."
Given that back story, it comes as no surprise Reilly he titled his latest CD "Greyhound Bus Tour." He'll celebrate its release at a show Friday night at Kerrytown Concert House.
PREVIEW
Joe Reilly
Who: Local guitar/singer/songwriter. With Allison Radell, piano; Seth Bernard, vocals/guitars; May Erlewine, vocals; Joshua Davis, electric piano; Marion Hayden, bass; Michael Shimmin, drums.
What: Earthwork musicians help local singer-songwriter Reilly celebrate the release of his new CD, "Greyhound Bus Tour."
Where: Kerrytown Concert House, 415 N. Fourth Ave.
When: 8 p.m. Friday, May 10.
How much: $5-$10. Info: To reserve tickets, call 734-769-2999.
The album—which combines elements of folk songs, hip-hop, and traditional Native American singing—features several familiar Michigan musicians who are part of the Michigan-based
Earthwork
music collective. They include Seth Bernard (vocals and guitars) and May Erlewine (vocals and piano), Joshua Davis (electric piano), Michael Shimmin (drums and percussion), Allison Radell (piano), Dominic John Davis (acoustic and electric basses), and Rachael Davis (vocals). Also featured are two Michigan-based hip-hop MCs, Will See and Peace Be Free.
"It was kind of a challenge to say to myself 'OK - I really want to make music in the world. I'm not sure exactly how to make a career of it so I'm just going to put myself out there and see what happens,'" Reilly said of the bus tour.
"The biggest lesson I learned is I can't do it alone. The whole purpose of making music is about connecting with people and making a community. And ultimately a big piece of this project for me was recognizing and celebrating the community that supports my music and informs my music and that my music is a part of. It's recognizing there is something bigger than just me, which is different than the model when I was growing up, which was to get rich and famous.
"What I learned on my trip is (that) at least for me, my music is coming from a deeper place and has more of a spiritual purpose in my life, (making) spiritual connections and emotional connections with other people and with the environment.
The core of Reilly's message is an invitation to heal our relationships with our selves, with each other, and with the earth. He uses his music to bring people together and build community across lines of race, class, gender, ethnicity, religion, age and nationality. Of Italian, Irish, and Native American (Cherokee) descent, Reilly—who lives in Ann Arbor now—was raised in Kalamazoo by musical parents who encouraged him to find his own voice.
The first song on the album pays tribute to his hometown, and it's also where Reilly started the bus tour.
"The album is a real collaboration," Reilly said. "It's the first time I have released something on the Earthwork music label. I am really excited to have the support of Earthwork and the musicians on it … I fell like they helped musically to bring my music to another level, which I'm real proud of and thankful for."
The new CD also includes three spoken-word journal entries that reveal a lot about what motivates him. "It's a way to share more of my process with people," he explained.
Reilly has recorded seven albums of his music, including two children's albums of environmental songs. His 2007 "Children of the Earth" was featured on National Public Radio's "Living On Earth" program in 2008. In 2011, he was selected as the official troubadour for National Get Outdoors Day.
He will graduate from the U-M School of Social Work in July. He also holds a degree in environmental justice from the U-M School of Natural Resources.