concert preview
John Latini hits a new peak, celebrates new album with 2-night showcase at Riverside Arts Center
Posted on Wed, Oct 3, 2012 : 5:36 a.m.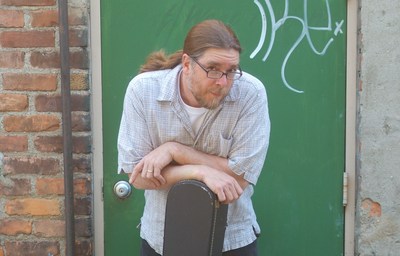 photo by AnnMarie Mannino | courtesy of Smokin' Sleddog Records

Sitting in a neighborhood tavern, nursing a beer and watching a pennant-race baseball game, seems the perfect setting for John Latini to talk about his new record, "Lovers, Liars and Losers."

Like America's pastime, Latini's music is at once familiar, laced with tradition and deceptively intricate.

After a long and varied musical career, Latini is set to release "Lovers, Liars and Losers," his fifth and finest record, which weaves personal revelations with larger questions of family and growth and, well, getting older.

Which makes sense, because, at a young-at-heart 54 and despite a bevy of local and regional songwriting awards, Latini has only recently had the opportunity to pursue music as a full-time vocation.

"I did all the stuff my dad told me I was supposed to do," Latini said with a chuckle. "Ive been responsible and raised my kids and we put them through college and all that stuff.

"So now the timing is right and I'm having a blast playing music for a living."

To celebrate the release of "Lovers, Liars and Losers," Latini has planned a two-night residency at Ypsilanti's Riverside Arts Center, where he and an expanded band, including horns, will recreate the record. The shows are scheduled for Oct. 5 and 6.

"We worked so hard on the record for so long, it just seemed like we needed to do something to celebrate its completion," Latini said. "And it's kind of taken on a life of its own."

The record deserves its own showcase. Drenched in Latini's easy charm, it encapsulates everything that his music is about, veering seamlessly from folky ballads to country two-steps to the bluesy torch songs that have become the singer's stock in trade.
PREVIEW
John Latini
Who: Well-respected local singer, songwriter and musician, with full band.
What: Two-night showcase to celebrate impressive new album.
Where: Riverside Arts Center, 76 N. Huron St., Ypsilanti.
When: 8 p.m. Oct. 5 and 6.
How much: $15 at the door. Advance discounts available at www.smokinsleddogrecords.com/buy_tickets/.
According to Latini, it all goes back to his childhood on Long Island, where he and his brothers would sit around the family songbook each night after dinner, trading verses on everything from Rolling Stones and Beatles tunes to Hank Williams weepers to jazz standards.
"It was all in the book," he said of those formative years. "That's how I learned to play and that's the music that's always been at the heart of what I do."
After moving to Ann Arbor in 1983 to follow his now-wife, Eileen, who was enrolled in graduate school at the University of Michigan, he formed Johnny Jones and the Phones, which played around in clubs.
Crowbar Hotel followed and enjoyed a successful run through much of the 1990s, before Latini turned increasingly to solo gigs and shows with his band, the Flying Latini Brothers, which also includes his brother, Jim, on drums, pianist Neil Donato and bassist John Sperendi.
"Lovers, Liars and Losers," was recorded over the course of several years. Latini worked with producer/engineer Adam Druckman at Druckman's Drawing Room Studio in Dexter and called in a who's who of collaborators, including pianist and arranger Al Hill, reedman Dan Bennett, and the rest of the Flying Latini Brothers.
"I'm just so fortunate to have worked with all these incredible musicians and to be able to bring them in—and pay them—to take part in making this record," he said.
The album finds Latini in a reflective state, pondering his own maturity, his children growing up and moving away, and looking back on long-ago friendships for answers to current-day questions.
There's a somber tone to the record, but it never bogs down under the weight of its seriousness.
Latini's having too much fun for that to happen.
"I thought 'Lovers, Liars and Losers' was a good thing to call it, because those are three qualities everyone has at one time or another," he said.
During the past few years, Latini has doubled down on his music career. After he was downsized from the IT job he held for decades, he seized the opportunity to pursue music full time.
So instead of clocking in each day, he's logging lots of miles in his pickup truck, playing all around the country, mostly in tandem with Dewitt-based singer-songwriter Jamie-Sue Seal (who is also his manager), and on his own, including regular dates at nursing homes assisted living facilities around the state.
A typical day might find him working two or three senior-center gigs during the day, then changing roles for a nightclub or theater gig in the evening.
That's show biz and, after putting his musical aspirations aside for so many years, he said there isn't anything he'd rather be doing.
"It's gotten to the point where performing is where I'm most comfortable," he said. "It took a while to get here, but I'm loving every minute of it."