Posted on
Sun, Jun 13, 2010 : 5:48 a.m.
Grammy-winning conductor John McLaughlin Williams now calls Ann Arbor home
By Susan Isaacs Nisbett
If there is a conventional path to becoming a conductor, then John McLaughlin Williams, a recent transplant to Ann Arbor who will lead the Detroit Symphony Orchestra next weekend, began building his musical career conventionally.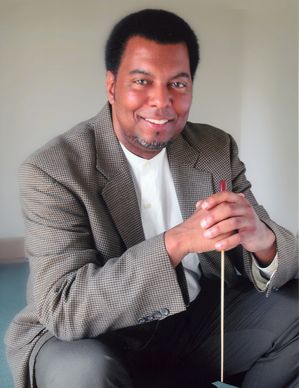 That is to say, he mastered an instrument — in his case, the violin, though he plays piano, too — and played it in orchestras, really good ones, like the Houston Symphony; the Boston Pops Esplanade Orchestra, where he was assistant concertmaster; and the Boston Symphony Orchestra, where he was a substitute. He guested with the Bolshoi and Kirov ballet orchestras, as well as with American Ballet Theatre and Pennsylvania Ballet.
"I played a lot of ballet before I decided to get into conducting," said Williams over coffee at the Plymouth Road Sweetwaters on a rainy Wednesday morning. "The lessons were invaluable. It's all about flexibility."
And like some conductors who take up the baton after years in the pit or at the keyboard, Williams, 52, enjoyed many years with bow in hand. "I had an entire career as a violinist," he said.
Then the restlessness set in.
"I wasn't doing all the music I wanted to," he said. "I had reached the end of a certain road. The way I wanted to pursue music required me being in front of the orchestra, not within it. There were certain styles of music, certain composers that interested me, and the only person who really gets to call the tune is the conductor."
And that's where his path diverges from the norm. He returned to school — at the Cleveland Institute of Music — in 1995, just a few months shy of his 38th birthday, both to finish the undergraduate degree he'd never completed in Boston, at the New England Conservatory and Boston University, because he was having a full career without it, and to study conducting. He received his bachelor's degree and his master's on the same day, in 1998. And then, at a point when most fledgling conductors would head for podiums before live audiences, Williams made a chance turn and plunged right into a recording career — usually the second step for conductors, not the first.
Recent years have led him back into the public eye, and the upcoming Detroit appearance, helming the DSO in a River Days Festival concert June 20, is an important milestone in his journey.
But the milestones in his recording career have been steady and stellar. In a little more than a decade, he amassed 13 recordings for Naxos or Naxos-distributed labels. About half of those have been in Naxos's American Classics series — the same series that saw the Ann Arbor Symphony's first commercial recording, of music by Paul Fetler.
The recordings have drawn more than rave reviews: His Cambria recording of Olivier Messiaen's "Oiseaux Exotiques" and the Shostakovich first piano concerto (with pianist Angelin Chang and the Cleveland Chamber Symphony) garnered him a 2007 Grammy for Best Instrumental Soloist Performance (with orchestra), and made him the first African-American conductor to win a Grammy.
A second Grammy nomination followed in 2008 for his recording of the Bloch and Benjamin Lees violin concertos with Elmar Oliveira (Artek). His most recent recording (as conductor, pianist and harpsichordist! — "It was a lot of fun," he said) is the complete viola works of American composer Quincy Porter, with violist Eliesha Nelson of the Cleveland Orchestra (Dorian Sono Luminus).
Williams' work before live audiences has also been garnering notice. But it was a newspaper article about him in Detroit, as well as conductor Leonard Slatkin's acquaintance with some of Williams' recorded work, that led to the DSO engagement, Williams said.
Sunday at the River Days Festival, as befits the occasion, the DSO repertoire features lots of popular classics (from Ellington to DeFalla, Saint-Saens and John Williams' "E.T.: Adventures on Earth"), but it also includes music by one of the composers, George Frederick McKay, that initially drew Williams to conducting — and whose music he became the first to record, for Naxos.
"I knew where the holes were in the catalog," he said, "and what composers hadn't been done."
How did he find out about these composers, mostly Americans active in the first half of the 20th century, writing in romantic or early modernist styles?
"By reading musical dictionaries," he answers simply.
He would read entries about the best people he'd never heard of, people who were celebrated in print for their works but not performed much anymore. He'd find scores of their music and examine them. He did that even when, as a teenager in Washington, D.C., tennis seemed to take up more of his time than violin.
"That was a sign," he said, of his future calling as a conductor: to have music in his life even when his instrument played second fiddle to sports. "Even when I wasn't playing, music was always there," he said.
Of course, little did he imagine then that he would record these composers he read about — McKay, John Alden Carpenter, Henry Kimball Hadley — or that his orchestra for these "American Classics" would be the National Symphony and Radio orchestras of Ukraine.
"For the most part, they get it," he said, asked about the irony of recording quintessentially American repertoire with Ukranian musicians. "But there are some things, certain rhythmic figures that are indigenous to any culture — in music of Copland, Bernstein or Gershwin, for example — that are very hard for them." It's as if Americans had to play Bulgarian dances, with all their rhythmic quirks, he added.
It was in Washington, D.C., where he grew up, that Williams took up the violin, first in public school — "The D.C. schools had a strong program then," he said — and then in private lessons that led him eventually to the great violin pedagogue Dorothy DeLay and other outstanding teachers. But Williams was born in North Carolina, where his family had deep roots. His grandfather, John C. McLaughlin, was first a student and then a longtime faculty member and dean of the School of Agriculture at North Carolina A&T State University, in Greensboro.
Williams credits a lot of his grit in pursuing his career to his grandfather, who served in France during World War I, was gassed in France and given just months to live, and defied expectations of imminent mortality to return to the U.S., complete 6th grade at the age of 25, and go on to receive the high school, undergraduate and graduate degrees that allowed him to become a revered figure in higher education.
It takes grit, for sure, to be a peripatetic musician. It is not the easiest life, even if it sounds glamorous. A month ago, for example, Williams was in Chicago, to conduct the Chicago Sinfonietta — an "interview" for a music director position with the group — that brought him great reviews in the Chicago press. Then he headed for the Cayman Islands, no hardship duty, where he has been affiliated with the Cayman Arts Festival and is happily introducing a new feature he's excited about, a series called 2+2=8, that presents music for two pianos, four players. While he relishes the challenges of "run-in" gigs as conductor — "Every group is different, and you never really know what will happen," he said — he also has his fingers crossed for a more permanent relationship. In addition to Chicago, he also has prospects in Macon, Georgia. And he is hoping, of course, that his upcoming concert with the DSO might lead to more engagements with them.
Asked whether, as an African-American, he feels he's been hampered in his conducting career, he responds with a firm no.
"I haven't felt it," he said. "That's not to say it hasn't been an issue. But even if it had been, it wouldn't have deterred me one bit."
Things were different for the generation before him, he said, though, offering the story of a senior colleague who was told that an orchestra he'd auditioned with wanted him but that board members worried his presence would negatively affect fundraising.
"It's heartbreaking," he said. "But I think times have changed, though that's not to say it's a perfect world. And as far as the DSO goes, they were way ahead of the curve; they've been hiring minority conductors for a long time."
Even if Williams gets an orchestral leadership job, he's likely to remain here in Ann Arbor and call the town home between engagements, he said. His daughter, Chase, 5, is happy in school here, at Thurston Elementary School, and schools were one reason he and his wife, Ann Lampkin-Williams, a social work Ph.D. with an appointment at Madonna University in Livonia, chose Ann Arbor. And he is still discovering the pleasures, musical and otherwise, of Tree Town and southeast Michigan.
"I didn't know there was a farmer's market on Wednesday as well as Saturday," he said as we parted after our interview, he to pick up Chase from school, I to pick over the berries and asparagus at the market. "I'll have to keep that in mind," he said.
John McLaughlin Williams conducts the Detroit Symphony Orchestra at the Detroit River Days Festival Sunday, June 20 at 7 p.m., on the Bank of America Stage, located on the RiverWalk just west of Rivard. Admission to the concert is free.
To learn more about John McLaughlin Williams, or to hear excerpts from his recordings, visit his website.
Susan Isaacs Nisbett is a free-lance writer who covers classical music and dance for AnnArbor.com.