Posted on
Mon, Mar 15, 2010 : 5:10 a.m.
John Oates returning to his roots with acoustic date at The Ark
By Kevin Ransom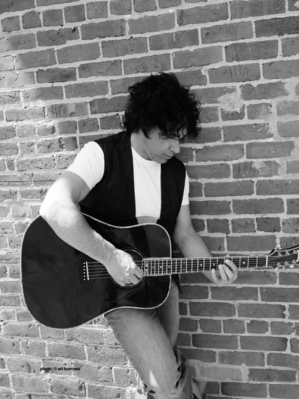 F. Scott Fitzgerald once famously wrote that there "are no second acts in American lives."
But don't tell that to John Oates — because he's definitely enjoying his own second act.
Over the last decade, as Hall & Oates have been scaling back their long-running act — both in terms of new releases and tour dates — John Oates has been having fun with his late-blooming solo career. He's released 4 solo albums since 2002 and has been hitting the road for acoustic tours — making music that is much more rootsy and stripped-down than the burnished, ultra-commercial, pop-soul he made as half of Hall & Oates for over 30 years.
For example, his 2008 album, "1000 Miles of Life" was a folk-pop affair that incorporated many of the folk music influences that he drew on way back in the early '70s, before he and Daryl Hall crossed over into the pop realm. Indeed, if you go back and listen to those first couple of Hall & Oates albums from that period, you can hear a supple synergy of folk and soul. That's especially true of the "Abandoned Luncheonette" album — which yielded their finest song, "She's Gone" — a study in subtlety that drew on those folk elements as well as Philly soul. Listen to John Oates "I Found Love" (MP3).
And for "1000 Miles," Oates went down to Nashville to record, and recruited various new-acoustic hotshots in order to add virtuoso rootsy support. "I got to work with Béla Fleck (banjo), Jerry Douglas (dobro) and Sam Bush (mandolin), plus (soul-music stalwarts) Steve Cropper (of Booker T & the MGs) and (venerated singer) Bonnie Bramlett," says Oates.
---
PREVIEW

John Oates

Who: One half of Hall & Oates, the extremely successful pop-funk-soul duo, Oates has embarked on a solo career in recent years.

What: Acoustic show, consisting of folk songs, country-blues tunes, solo songs and acoustic covers of Hall & Oates tunes.

Where: The Ark, 316 South Main Street.

When: Friday, March 19, 8 p.m.

How much: $35.

Details: 734-761-1451; AnnArbor.com calendar; The Ark web site.
---
And when Oates brings his solo show to The Ark on Friday, it will be an acoustic gig, with Oates accompanied only by a guitarist and percussionist.
"When I decided to start doing solo gigs and albums, I figured, I'm going to do something solo; it should be different than what I've been doing with my established band — the stuff that people already know me for," says Oates. "I'm really proud of the work I've done with Daryl all these years, and we have an amazing band.
"But I did have a history before I met Daryl, and back then, I was definitely interested in the traditional Americana stuff. That's what I brought to the blend initially, but as we became more popular, some of the fans didn't really know what to make of that aspect, so that sort of faded from the mix," explains Oates by phone from his home in Aspen.
"But as I began playing around with the idea of doing solo shows and albums, I began exploring those styles again, and I rediscovered that those really were the roots of my musical life.
"And one thing I've learned about playing acoustic shows, without a band, is that it's very liberating. I have the freedom to change arrangements spontaneously, and take a song in a new direction, without worrying about being constricted by the arrangements that we've already worked out in advance with the band."
For his next project, he says he's digging deeper into the roots-music canon — he'll be doing an album's worth of country-blues covers. That project has its genesis in a cover of a Dave Van Ronk song that he did for a recent compilation album, "The Village." Listen to a sample of John Oates "He Was a Friend of Mine" (MP3).
"It was in the ragtime-blues style, and my label asked me if I wanted to do a whole album of that, but now that I am further along with it, and figuring out how we're going to do it and who's going to play on it, I want it to be more in the country-blues vein — and almost all covers, like songs by Mississippi John Hurt, Bukka White, Doc Watson, that sort of thing."
Oates' acoustic live shows are a mix of those covers, his recent solo songs and reworked acoustic versions of Hall & Oates hits. "In some cases, I'm really just playing the Hall & Oates songs the way they were originally written, which was on acoustic guitar. And a lot of 'em hold up that way, which I think is the true test of a song — whether it can stand alone, without all the production."
And in other cases, Oates has fun with the familiar pop versions by turning them on their heads. "Sometimes I'll do 'em in a different key, or slow them down, or do something completely different — like, with 'Maneater,' I really screwed around with that one," says Oates with a laugh. "I turned it into a bluegrass song, and people love it. And some, I don't touch. Like, 'She's Gone" — I wrote that on an acoustic guitar, so that one sounds a lot like the studio version in terms of the key and tempo."
John Oates performing an acoustic version of "Maneater" live in 2009:
In October, Sony Legacy released a Hall & Oates box set, titled "Do What You Want, Be What You Are," which pulls together 74 songs — including the hits, deep cuts, live performances, rarities, and 16 previously-unreleased tracks.
One of the funniest bits of musical satire of the last 18 months — or at least, one of the best examples of creating alternate lyrics to a popular song in order to poke fun at a media figure — was when Hall & Oates appeared on "The Daily Show with Jon Stewart" in December of '08.
The shtick: They sang a new version of "She's Gone" to bid mock-tearful farewell to Alan Colmes, who had announced he was leaving the Fox News show "Hannity and Colmes." The satirical subtext, of course, is that Fox execs had, for years, been dishonestly presenting Colmes as a 'liberal," when in fact he was just a moderate milquetoast doormat for right-wing co-host Sean Hannity. On the Fox show, the bellowing, loud-mouthed liar Hannity would bully, insult and shout down Colmes on a regular basis.
"It was Jon's idea, and he had the writers create the new lyrics, and we just showed up and sang 'em," remembers Oates with a laugh. "Daryl and I are both big fans of 'The Daily Show,' so we were thrilled to do it. We really had a blast."
Kevin Ransom is a free-lance writer who covers music for AnnArbor.com. He can be reached at KevinRansom10@aol.com.