Posted on
Fri, May 10, 2013 : 9:01 a.m.
Join in on UMS Summer Sings events
By Ann Dwyer
Composer and all around good guy Brian Eno has said the key to a long life is singing every day. So do yourself a favor and join in on the UMS Choral Union's 2013 Summer Sings events.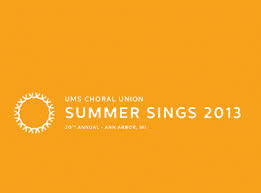 This event will feature a reading of Giuseppe Verdi's "Requiem." Because nothing says "summer" like a good requiem. Jerry Blackstone, director of choral activities, professor and chair of conducting at the University of Michigan will conduct.
These events are no-audition, no-performance evenings of music making.
Future "Summer Sings" events are set for July 8 and July 22.
Tuesday, May 14, 2013. Registration begins at 6:30 p.m., singing at 7 p.m. Admission to each session costs $5. Hill Auditorium is at 825 N. University Ave., Ann Arbor. 734-763-3333.