Posted on
Mon, Oct 22, 2012 : 1:07 p.m.
Jonathan Safran Foer to keynote Jewish Federation Main Event at WCC
By David Shtulman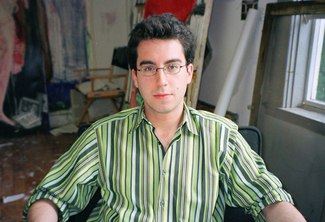 Jonathan Safran Foer
, award-winning and bestselling author, will be the keynote speaker at the Jewish Federation of Greater Ann Arbor's "Main Event" at Washtenaw Community College at 4 p.m. Oct. 28. Details and online registration forms are available at
www.jewishannarbor.org.
Safran Foer is the author of the international bestseller, Everything is Illuminated, which was published when he was only 25. Hailed as the "Debut of the Decade" and translated into 35 languages, the novel won numerous awards and was named Book of the Year by the Los Angeles Times and the decade's best book of Jewish fiction. A movie based on the book was released in September 2005, starring Elijah Wood as Jonathan Safran Foer.
His second novel, Extremely Loud and Incredibly Close, went straight onto national and international bestseller lists. It received the "Literature for Life Award," the Victoria and Albert Museum Award and the Prix des Libraries du Quebec. It too was released as a movie in 2010 starring Tom Hanks and Sandra Bullock.
Named one of Rolling Stone's "People of the Year" and Esquire's "Best and Brightest," Jonathan Safran Foer has had stories published in several magazines. His libretto, "Seven Attempted Escapes from Silence," was performed in 2005 by the Berlin State Opera House.
In 2006 Safran Foer documented his exploration of how animals are raised for food in a nonfiction book called Eating Animals, which was an instant New York Times Bestseller. In 2010 he was included on The New Yorker's "under 40" list of the best young writers in the US.
Most recently, Jonathan Safran Foer co-authored with Nathan Englander, the New American Haggadah, which Leonard Fein has called "a labor of great love and of much work and, above all, of brilliant artistry — verbal, graphic and intellectual."
The Main Event is the Jewish Federation of Greater Ann Arbor's annual community fundraiser in support of all the organizations and agencies that help provide a vibrant and inclusive Jewish community and is open to all. Event co-chairs are Geri and Sheldon Markel and Stacy and David Markel.
The Main Event is underwritten by a grant from the Ford Motor Co. Fund.
David Shtulman is the executive director of the Jewish Federation of Greater Ann Arbor. He can be reached at david@jewishannarbor.org.