Posted on
Mon, Feb 11, 2013 : 10:53 a.m.
Journalist Charlie LeDuff to discuss his new book
By Ann Dwyer
Charlie LeDuff has shaken up what it means to be a broadcast reporter. Gone are the suits and the sedate camera presence. LeDuff brings a certain cowboy swagger to his impassioned reporting on Detroit. He brings that passion his new book, "Detroit: An American Autopsy." Meet him at Nicola's Books for a book signing and discussion on Thursday.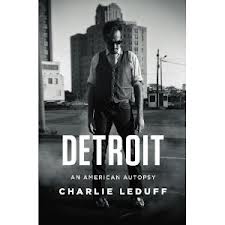 LeDuff grew up in Detroit, where he and his family experienced many of the ups and downs, then more downs, that has led to the city's downfall. His mother's flower shop was firebombed, his sister got caught up in the streets, his brother went from selling sub-prime mortgages to cleaning screws in a factory. But he also reveals what is really happening in the city, a city where officials aren't always up-front about where the city really stands.
7 p.m. Thursday, Feb 14, 2013. Free. Nicola's Books is located in the Westgate Shopping Center at 2513 Jackson Road, Ann Arbor. 734-662-0600.